Source: Syfy
schedulebot

EUREKA - SYFY: SEASON FOUR MARATHON SCHEDULE MONDAY, AUGUST 29, 2011
12:00 PM
I'll Be Seeing You
A stolen Global Dynamics project brings Carter, Allison, Jo and Fargo together, and Grant's disappearance turns him into a suspect in the theft. Carter and Jo find evidence linking Grant to Beverly Barlowe before a catastrophe strikes.
Guest stars include Debrah Farentino, Noah Danby, Elias Toufexis and Michelle Harrison.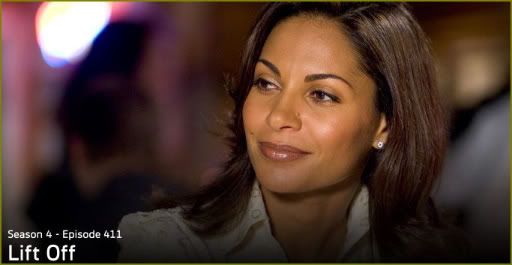 01:00 PM
Liftoff
Carter lands in an awkward situation after S.A.R.A.H. and Andy's nuptials hit a snag; Zane keeps harassing Jo for details; an unscheduled launch presents trouble for the gang.
Guest stars include
Stargate Atlantis'
Kavan Smith,
Stargate Universe's
Ming-Na, Tembi Locke, Chris Gauthier and Christopher Jacot.
Watch a clip from Episode 411 'Lift Off'.
02:00 PM
Reprise
A rocket scientist arrives at Café Diem; a song prompts Fargo to display some fighting moves; Carter is tasked with minding Allison's kids while she leaves town for a medical conference.
Guest stars include Felicia Day, Tembi Locke, Kavan Smith, Trevor Jackson, Chris Gauthier, Christopher Jacot, Debrah Farentino and Marie Avgeropoulos.
Watch a clip from Episode 412 'Reprise'.
03:00 PM
Glimpse
Applicants swarm Fargo after he solicits volunteers for a space mission; persistent headaches plague Allison; Carter plans a getaway; Lupo is fitted with special lenses that help predict possible security threats and calamities. Wil Wheaton and Stan Lee guest star.
Guest stars include Stan Lee, Felicia Day, Graeme Duffy and Wil Wheaton.
Watch a clip from Episode 413 'Glimpse'.
04:00 PM
Up In The Air
Carter must solve a bank robbery or the town may float away.
Guest stars include Felicia Day, Wil Wheaton, Alex Ferris, Trevor Jackson, Paula Lindberg and Tembi Locke.
05:00 PM
Omega Girls
Lupo tries to explain to Zoe what happened with Zane, but the ladies find a bigger problem in town.
Guest stars include Ming Na, Rocky Anderson, Jordan Hinson and Paula Lindberg.
Watch a clip from Episode 415 'Omega Girls'.
06:00 PM
Of Mites And Men
When things start melting around Eureka, Carter and Allison discover something is literally eating through Global Dynamics. Guest Starring Ming Na.
Jo, Fargo, Holly and Parrish are isolated and subjected to psychological tests; disaster looms when the Global Dynamics building is attacked by hungry mites; Allison attempts to earn back the trust of her superiors following her episode with Beverly.
Guest stars include Ming Na, Felicia Day, Kavan Smith, Tembi Locke and Tina Milo Milivojevic.
Watch a clip from Episode 416 'Of Mites and Men'.
07:00 PM
Clash Of The Titans
The town is under threat of contamination after an explosion releases poisonous gases into the atmosphere; Jo volunteers to help Henry and Grace plan their wedding; a relationship auditor arrives in Eureka to examine Carter and Allison.
Guest stars include Wallace Shawn, Felicia Day, Tembi Locke, Kim Poirier and Christina Sicoli.