Source:
Boston Herald
[follow link for complete interview]

DOCTOR WHO - BOSTON HERALD: Actress Karen Gillan delighted to be with 'Dorctor Who'
By Rick Bentley
Wednesday, August 24, 2011
Karen Gillan's
skin color — or the lack of — makes her look like she should be one of the "
Twilight
" vampires. It could be an illusion as the red-headed actress wears dark glasses and a long black dress to protect her from the harsh Southern California rays.
The Scottish-born Gillan's ventured into the sun to talk about playing Amy Pond, the latest female traveling companion for the good Doctor (
Matt Smith
), on the long-running sci-fi series "
Doctor Who
."
Gillan wasn't a follower of the series — despite knowing it's as big in the United Kingdom as Elvis is in America — but she was brought up to speed quickly...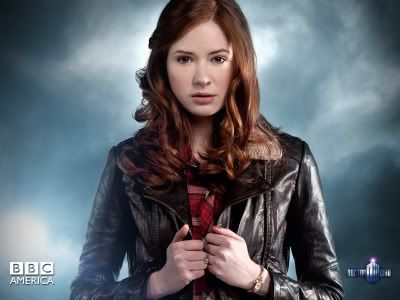 ... "
My mother is a really, really big fan,
" Gillan says. "
She's over the moon every day about me being on the show.
"