Source:
TV.com
[follow link to view a video interview]
WAREHOUSE 13 - TV.COM: Behind-the-Scenes: Q&A with Eddie McClintock
by
Justin O'Kelly
07/08/11
Warehouse 13's
third season begins Monday, with a gaping hole where Secret Service agent Myka Bering, as played by
Joanne Kelly
, used to be (the character drove off mysteriously at the end of Season 2.) So we headed to the show's set to track down remaining co-star
Eddie McClintock
, a.k.a. agent Pete Lattimer, to find out what's going to happen to his character in Season 3, what it was like playing Myka for an episode in Season 2, and how he imagines Pete and Myka will finally put the moves on each other (assuming she comes back soon)...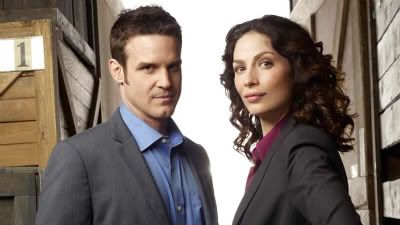 ...
On buffing up for Season 3:
Eddie McClintock: "
I spent a lot of time in the gym last year, but I wasn't as dedicated as I was this year. And the network let me know that I was gonna be spending more time with my shirt off this year ... so I hope that it shows!
"
On not getting too comfortable in his lead role:
Eddie McClintock: "
Jack [Kenny], our exec producer, reminds me and the rest of the cast quite often that this is Warehouse 13, not Pete's Warehouse or Myka's Warehouse or Artie's warehouse, so if we act up he could have us killed at any time...
"
Warehouse 13 premieres Monday, July 11 at 9pm on SyFy.