Source:
TV Line
[follow link for complete interview]

FALLING SKIES - TV LINE: Moon Bloodgood: Anne Will Soon Face a 'Horrifying, Cathartic Moment'
July 9, 2011
by
Matt Webb Mitovich
There is much for viewers of TNT's
Falling Skies
to look forward to. For one, the alien-invasion series
has been picked up for a second season
, just four weeks into its freshman run. Also, looking to the immediate future, this Sunday's episode takes us inside the head of Anne Glass, the stalwart but not-entirely-indestructible pediatrician tasked with human medical matters as well as taking scientific stock of the "skitter" being help captive by the 2nd Massachusetts. (Along the way, we'll also learn something new about the ETs, including what exactly they do with the harnessed kids at bedtime!)
Moon Bloodgood
, who plays Anne, shared with TVLine a look at the crucible her lady doc must navigate this week, and the breakdown it begets. Plus: Which of the actress' past TV series holds an extra special place in her heart?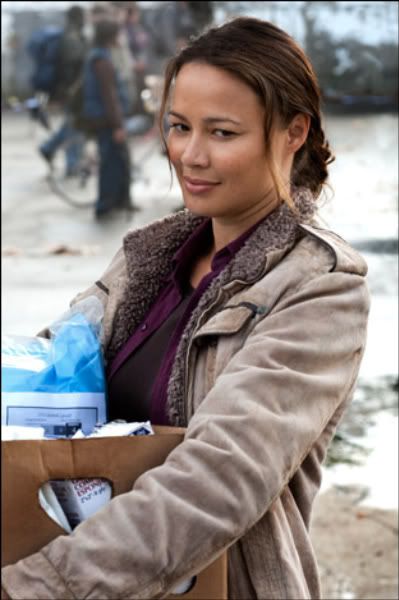 ...
TVLINE | OK, so there were especially distressing circumstances surround their death, like how Tom's wife only died because she took Dr. Harris' shift.
Moon Bloodgood
: "
The way it was explained to me is that when the aliens came, we didn't know if they were hostile, and they were there for like 30 days before they attacked. But people were going missing, and the aliens weren't responding to any communications, so my husband was like, "I have a really bad feeling about this. I don't think you should go to work today." But I decided to go, because it's my job to help kids. And that day is when [the aliens] dropped bombs, and my husband and child were basically burned to a crisp. The guilt that I feel is because I know that I could have been there...
"