Source: Syfy
schedulebot
SYFY: STAR TREK MOVIE MARATHON TUESDAY, JULY 26, 2011
Star Trek: The Next Generation
(movie cast) includes Patrick Stewart, Jonathan Frakes, Brent Spiner, LeVar Burton, Michael Dorn, Gates McFadden and Marina Sirtis.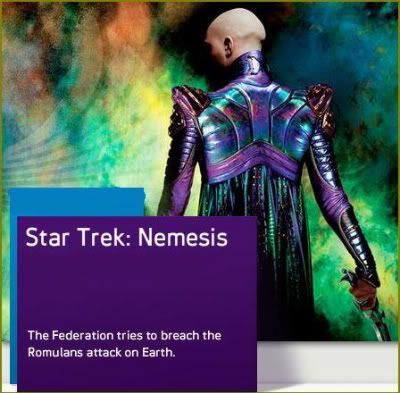 06:30 PM
Star Trek X: Nemesis
The crew of the Enterprise must prevent a replica of Capt. Picard from overtaking Earth.
Guest cast includes Tom Hardy, Ron Perlman, Shannon Cochran, Dina Meyer, Kate Mulgrew and Wil Wheaton.
09:00 PM
Star Trek VIII: First Contact
The Borg are back! Capt. Jean-Luc Picard (
Patrick Stewart
) confronts the archenemies who kidnapped and assimilated him in a "Next Generation" TV episode. Now, the Borg have time-traveled to Earth's past to preclude the first contact between humans and Vulcans, which resulted in the Federation's birth. Bent on revenge, Picard follows the Borg to the 21st century. Will Picard sacrifice everything to stop the villains?
Guest cast includes Alfre Woodard, James Cromwell, Alice Krige, Michael Horton, Neal McDonough, Marnie McPhail, Robert Picardo and Dwight Schultz.
11:30 PM
Star Trek X: Nemesis