Source:
My Fanbase
[follow link for complete interview]
STARGATE UNIVERSE - MY FANBASE: Patrick Gilmore Interview
Patrick Gilmore
plays the part of the shady playboy Tom Drexler in the AMC series "
The Killing
" and the role of Dr. Dale Volker in the science fiction show "
Stargate Universe
". With
David Blue
and
Elyse Levesque
he's the third person from the main cast of this show we could talk to...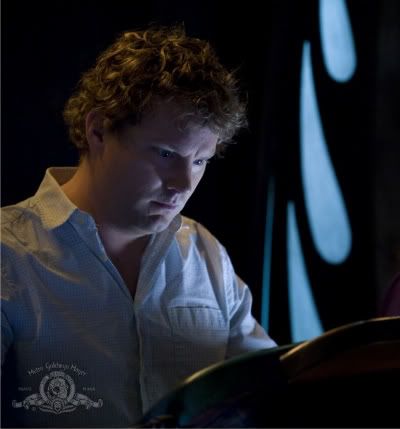 ...
6. How did you feel about the end of SGU just as your character Dale Volker had a big storyline with his illness?
Patrick Gilmore
: "
...and then there's the way SGU ended. Ha. SGU was a surprise to me because I've never been an avid fan of SciFi TV. But then I get cast in this one and I start getting the scripts and I find that I'm up in the production offices every week pacing around the photo copier waiting for the next story. I became a fan of a SciFi show. I've been in others, but SGU transcended them because, as we've established, I like smart character dramas. These were dark, conflicted characters reacting to SciFi, not SciFi with a dusting of characters. As the seasons progressed my character did become more involved in plot lines, but, being so invested in the overall story, I lament the show more than Volker's arc. Even if Volker was killed off, I would have tuned in every week to see where Destiny was ultimately going...
"