Source:
Latino Review
[follow link for complete interview]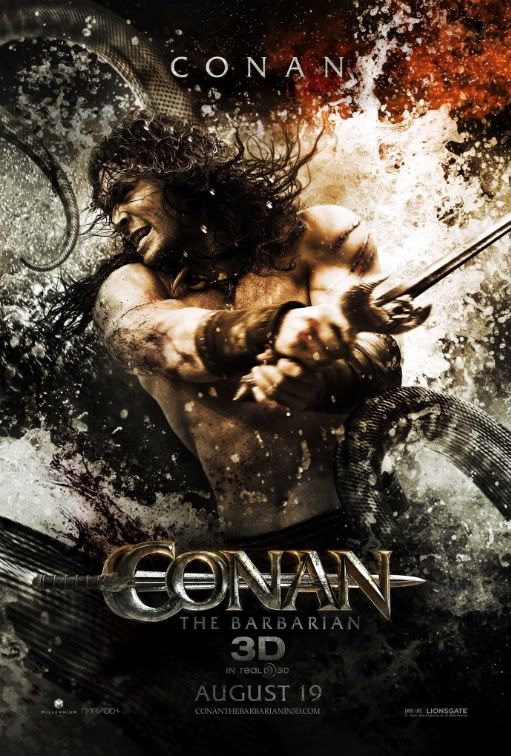 CONAN THE BARBARIAN - LATINO REVIEW: SDCC 2011: Talking 'Conan the Barbarian' With Jason Momoa & Rachel Nichols
By
Elisabeth Rappe
July 28, 2011
Saying that
Jason Momoa
takes over a room is easy and undoubtedly expected. Momoa is huge and immediately commands your respect. But what is unexpected and delightful about him is how damn warm, personable, and nice he is. I don't know what I was expecting – a growling badass, I suppose – but it wasn't a guy who was so quick to laugh, smile, joke, and make fun of himself. Even his costar,
Rachel Nichols
, was utterly under his spell and the two often communicated in in-jokes and shorthand that the rest of the roundable couldn't really understand. Any of the wonky bits in the middle of this interview are a result of their camaraderie.
We were given copies of a comic book based on the new Conan film, and when he walked in, Momoa immediately picked up mine and asked me what it was. He flipped through it, turned to me, and said "
Er ... man. I don't think this looks anything like me...do you?
"
"
No,
" I said. "
But the back cover is ok – he looks kind of like you there.
" When the roundtable started, he was still looking through it, hence his abrupt calling for Krom at the very beginning!
It was a fun interview. Read on for Momoa and Nichols' thoughts on the film, their characters, and all comparisons to Arnold and the original 1980s film...
...
Q: Jason, I want to know how you would describe your version of Conan.
JM
: "
Jesus! My version of Conan ... what would I describe? Well, basically it would be this movie. My version of how I want to play him?
"
Q: Well, how you portray him.
JM
: "
You know what, the first thing I did was – my first experience with Conan was looking at those Frank Franzetta paintings, the one with him on the skulls. I don't need to see the [original] movie to see what that guy is made of, and it just sears in your memory as a child. When I read the comic books, and the Robert E. Howard – those are my own images in my head. And how I wanted to play it, how I wanted to play Conan -- I went and studied big cats, lions and panthers, [to get] the way that he moves, how I wanted to tuck my head, the way that you look – when you look at a lion, you're just like "Holy shit!" You just don't want to make eye contact. I wanted to have that presence, and the way he prowls and stalks his victims...
" [gives a predatory look to Rachel]
Rachel
: "
I'm not a victim!
"
JM
: [laughs] "
And then I studied a lot of samurai films. I wanted to incorporate a lot of that – take a broadsword and wield it like a samurai sword was something that I wanted to do. So I studied a lot of [unintelligible], and the reverse grip, I wanted to put that Asian influence into this barbarian thing...
"