Source:
Syfy schedulebot
SYFY: Sharks, Kraken and Piranha Original Movie Marathon Friday, May 27, 2011
Check out
Tuning Into SciFi
Saturday B Movie Reel
update for this event!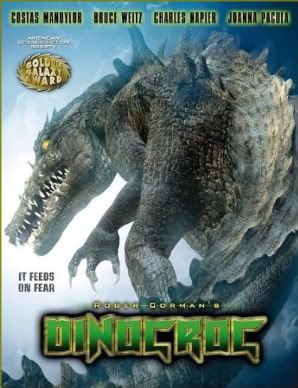 08:00 AM
Dinocroc
Scientists become victims of their own work when the cross ancient crocodile DNA with that of a dinosaur.
Cast includes Costas Mandylor, Charles Napier, Bruce Weitz, Matthew Borlenghi, Jane Longenecker and Max Perlich.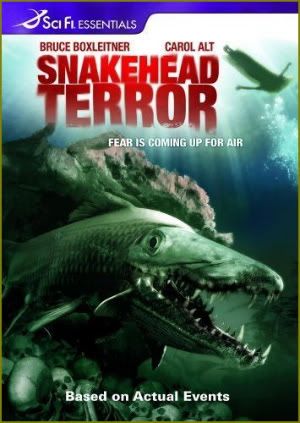 10:00 AM
Snakehead Terror
A small-time sheriff must cope with a town besieged by carnivorous land-walking fish when strange chemicals dumped in a nearby lake turn nature against mankind.
Cast includes
Babylon 5's
Bruce Boxleitner, Carol Alt, Chelan Simmons, William B. Davis, Doug Abrahams and
Stargate SG-1's
Gary Jones.
12:00 PM
Dinoshark
A dinosaur-shark hybrid terrorizes a resort in Mexico, and it's up to a young fishing boat captain to stop it.
Cast include
Haven's
Eric Balfour, Iva Hasperger, Aarón Díaz, Humberto Busto and Richard Miller.
Source:
Syfy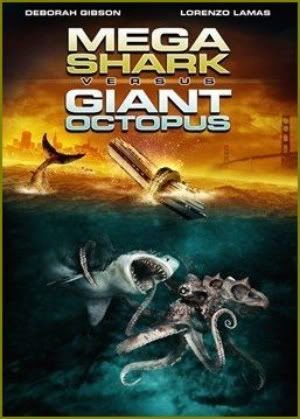 02:00 PM
Mega Shark Vs Giant Octopus
Two colossal prehistoric monsters terrorize the California coast while battling for supremacy of the sea in this salt-water creature feature starring Lorenzo Lamas and Deborah Gibson.
Cast includes Deborah Gibson, Lorenzo Lamas, Vic Chao, Jonathan Nation, Mark Hengst, Michael Teh and Chris Haley.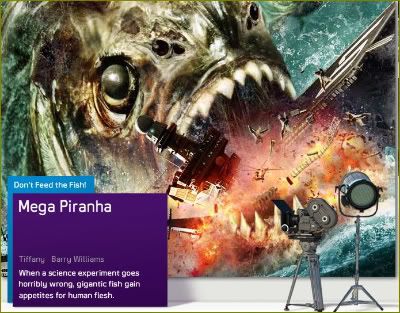 04:00 PM
Mega Piranha
Giant mutant piranha escape from the Amazon and head for Florida.
Cast includes Paul Logan, Tiffany, Barry Williams, David Labiosa, Jude Gerard Prest and Jesse Daly.
Source:
Syfy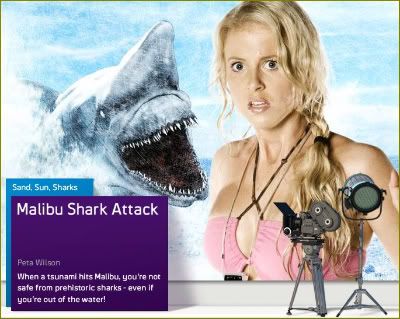 06:00 PM
Malibu Shark Attack
A tsunami brings goblin sharks to Malibu, CA, after a massive wave cuts lifeguards and construction workers off from dry land.
Cast includes Peta Wilson, Renee Bowen, Remi Broadway, Joel Amos Byrnes, Warren Christie, Nicholas G. Cooper and Sonya Salomaa.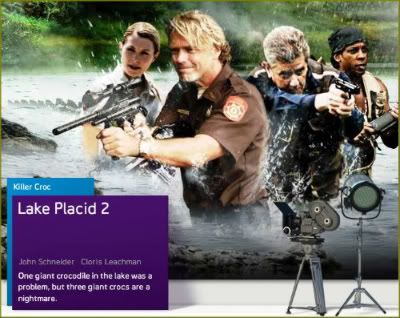 10:00 PM
Lake Placid 2
The quirky residents of Lake Placid once again become gator bait in this horror sequel. Eight years after the town was devastated by a giant crocodile, the creature's numerous offspring return for some human snacks of their own. It's up to the local sheriff (John Schneider), his ex-girlfriend, an EPA agent and a professional croc hunter to stop the bloodthirsty beasts before they kill again.
Guest includes John Schneider, Sarah Lafleur, Sam McMurray, Chad Michael, Alicia Ziegler, Joe Holt, Ian Reed Kesler, Justin Urich and Cloris Leachman.
12:00 AM
Mega Shark Vs Giant Octopus
02:00 AM
Kraken: Tentacles Of The Deep
Two treasure hunters race against a gangster hunting for a valuable Greek opal; one of the hunters is also out for revenge, because an octopus-like creature that lives near the treasure site killed his parents 30 years earlier.
Cast includes Kristi Angus,
Glee's
Cory Monteith, Jack Scalia, Aleks Paunovic and
Stargate Universe's
Mike Dopud.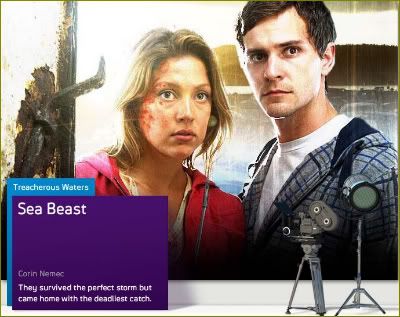 04:00 AM
Sea Beast
A small village unites in self-defense when a creature from the sea invades their fishing waters and threatens to destroy the town.
Cast includes
Stargate SG-1's
Corin Nemec, Miriam McDonald, Daniel Wisler, Camille Sullivan, Gwynyth Walsh, Brent Stait and Gary Hudson.