Source:
TV Guide
[follow link for complete article]
If you haven't SEEN the season finale of The Mentalist, and don't want to be spoiled -- DON'T read any further!
TV GUIDE: Spoiler Alert: Simon Baker Talks About The Mentalist's Shocking Season Finale
May 20, 2011
by Michael Logan
Did CBS cancel
The Mentalist
and forget to tell us? The smash-hit crime drama just wrapped its third season with Patrick Jane (
Simon Baker
) shooting and killing serial slayer Red John (
Bradley Whitford
) in the crowded food court of a shopping mall. But wasn't Jane's vengeful pursuit of Red John his raison d'être and the very point of this series? How could the plot wrap up so soon? Then again, did Jane kill the real Red John? Whether he did or he didn't, he's in deep doo-doo.
"
Patrick has just murdered a man in cold blood in front of hundreds of people and next season he will be tried in court
," creator
Bruno Heller
tells us. "
We won't dodge any issues. Patrick won't wake up and discover it was all a dream. There will be consequences.
"
TV Guide Magazine spoke with Baker to get his take on the daring cliffhanger and where his show is headed from here. Will that impish little devil Patrick Jane ever be able to charm us again?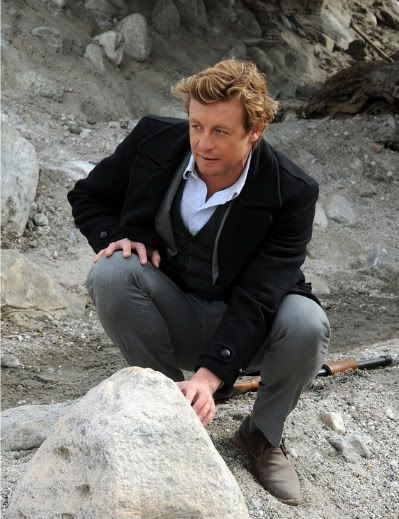 ...
TV Guide Magazine: He certainly can't claim to have killed in self defense.
Baker
: "
And how do you get around that? There are too many witnesses who saw him go after Red John. I had some issues with the way the killing was originally written, which had Red John getting up and walking away and my character shooting him in the back three times. That wouldn't have been fulfilling enough for Jane. The whole idea of vengeance is the fulfillment factor! Patrick had already said in a really powerful scene in Season 1, "When I find him I'm going to cut him open and watch him die." A big part of the show — and the fan speculation — has always been whether or not Patrick really has what it takes to carry out that threat. Does he actually have it in him? So we played around with the scene. My idea was that Red John talks about how the wife and child smelled and it just cripples Jane. You see him go from this guy who's this close to having his vengeance, having his closure, and he just crumbles into a bit of a paralyzed mess. Then Red John walks away. Jane says, "Please, wait." Almost like he needs to hear more detail. I've always played the murders as still being so raw, so present, despite Jane's bravado. I like the perverseness of him needing to hear more, as macabre as it is. So Jane goes up to him and looks like he's shattered, then when he gets this close to Red John, the need for cold revenge kicks in. And he's thinking, "Not only am I going to kill you, I am going to mind f--k you at the same time." I wanted the audience to still think in that moment that, despite all Jane's talk, he just can't kill Red John. But then he does! It's very operatic. Bruno loved the idea...
"