Source:
Syfy schedulebot
SYFY CREATURE FEATURES SATURDAY FEBRUARY 12, 2011
10:30 AM
SS Doomtrooper
Corin Nemec stars in this horror film set in World War II, in which American forces must battle monstrous super-soliders created by the Nazis.
Cast includes Corin Nemec, James Pomichter, Marianne Filali, Ben Cross, Kirk B.R. Woller and Harry Van Gorkum.
12:30 PM
Arctic Predator
(Original title: Frost Giant)
An explorer and his team encounter an alien creature that feeds on energy.
Cast includes Dean Cain, Erbi Ago, Velizar Binev, Lucy Brown, Louisa Clein and Laia Gonzàlez.
02:30 PM
Bone Eater
A highway crew accidentally unleashes a deadly creature tied to Native American mythology that leaves boneless victims in its wake.
Cast includes Babylon 5's Bruce Boxleitner, Chuck Hansen, Clara Bryant, Buck Rogers in the 25th Century's Gil Gerard, Veronica Hamel, Michael Horse, William Katt and Star Trek's Walter Koenig.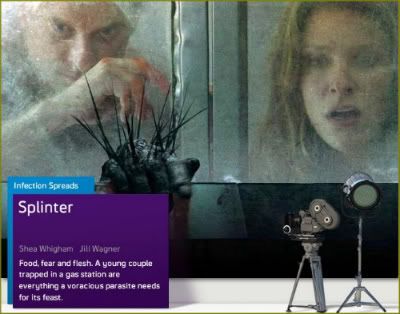 04:30 PM
Splinter
A young couple and an escaped convict are trapped in an isolated gas station by a parasite that transforms its still-living victims into deadly hosts. [I hate when that happens.]
Cast includes Charles Baker, Jill Wagner, Paulo Costanzo, Shea Whigham, Rachel Kerbs and Laurel Whitsett.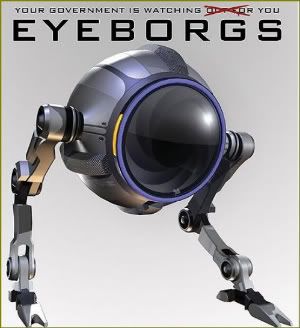 06:30 PM
Eyeborgs
FBI Agent Gunner Reynolds (Adrian Paul) battles an army of weaponized security cameras that have been hacked by terrorists. The determined agent must convince the president to shut down his surveillance program before the machines take over.
Cast includes Adrian Paul, Megan Blake, Luke Eberl and Tim Bell.
09:00 PM Syfy Original Movie PREMIERE
Iron Invader
Two brothers desperate to keep the family business afloat soon find their prayers answered when a Russian satellite dislodges from orbit and crashes into the middle of a nearby field. Unaware the satellite carries a mysterious alien substance, the brothers sell the satellite to a local artist who uses the wreckage in his giant sculpture. But soon the substance brings the giant sculpture to life; creating an iron monster whose only mission is to kill.
Cast includes Nicole de Boer, Chelah Horsdal, Jesse Moss, Merritt Patterson, Colby Johannson, Eureka's Chris Gauthier, Battlestar Galactica's Donnelly Rhodes and Stargate Atlantis' Paul McGillion and Kavan Smith.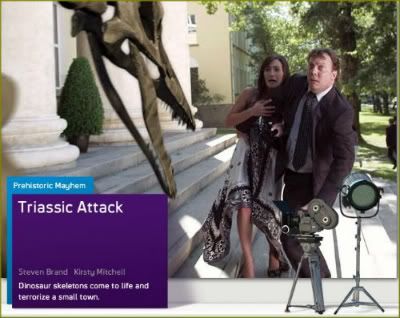 11:00 PM
Triassic Attack
Three dinosaurs wreak havoc on a a small town and a local university after the owner of a kitschy roadside museum accidentally brings three fossils to life.
Cast includes Steven Brand, Raoul Trujillo, Kirsty Mitchell, Jordan Bonev, Nathalie Buscombe and Emilia Clarke.
01:00 AM
Iron Invader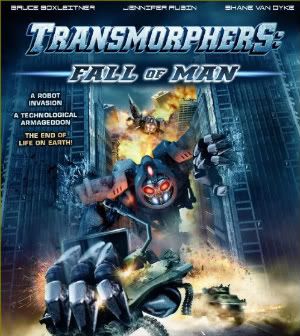 03:00 AM
Transmorphers: The Fall Of Man
In this present day prequel, the robot invaders attack the Earth, forcing a small band of humans to seek refuge below the surface of the planet.
Cast includes Bruce Boxleitner, Jennifer Rubin, Shane Van Dyke, Alana DiMaria and Russ Kingston.