Source: Syfy
schedulebot

STAR TREK ENTERPRISE - Syfy: Season Two Marathon Friday, March 4, 2011
08:30 AM
The Breach
The rescue of a damaged transport prompts the Denobulan Phlox to confront his prejudices when he treats an Antaran (Henry Stram), whose people are sworn enemies of Phlox's. Other Denobulans are holed up in an underground cave, where Trip, Reed and Mayweather are dispatched to retrieve them.
Guest stars include Henry Stram, Mark Chaet, Laura Putney and D.C. Douglas.
09:30 AM
Cogenitor
Enterprise's first contact with the Vissian race proves mutually rewarding until Trip befriends an alien couple's congenitor---a being used for breeding purposes only.
Guest stars include Andreas Katsulas, F.J. Rio, Becky Wahlstrom, Laura Stepp, Larissa Laskin and Stacie Lynn Renna.
10:30 AM
Regeneration
Enterprise searches for a party of missing scientific researchers who vanished from the Arctic after discovering a crashed spacecraft and its dormant cybernetic crew.
Guest stars include Vaughn Armstrong, Jim Fitzpatrick, John Short, Bonita Friedericy, Christopher Wynne and Paul Anthony Scott.
11:30 AM
First Flight
Stunned by the death of a former Starfleet rival (Keith Carradine), Archer grudgingly recalls their competitive relationship to T'Pol as they probe a nebula during a shuttle voyage.
Guest stars include Brigid Brannagh, Vaughn Armstrong and Keith Carradine.
12:30 PM
Bounty
A crafty Tellarite tricks Archer into boarding his ship to collect a bounty from the Klingons; T'Pol's mating cycle is kick-started after she is contaminated by a stray microbe while exploring a desert planet.
Guest stars include Jordan Lund, Robert O'Reilly, Ed O'Ross and Michael Garvey.
01:30 PM
The Expanse
The Enterprise is recalled to Earth after a mysterious alien probe kills millions. Complicating matters are the machinations of a vengeful Klingon.
Guest stars include John Fleck, Vaughn Armstrong, Gary Graham, Daniel Riordan, Bruce Wright, Dan Desmond and Josh Cruze.
02:30 PM
Star Trek V: The Final Frontier
Capt. Kirk and his crew must deal with Mr. Spock's half brother who hijacks the Enterprise for an obsessive search for God.
Cast includes William Shatner, Leonard Nimoy, DeForest Kelley, James Doohan, Walter Koenig, Nichelle Nichols, George Takei, David Warner, Laurence Luckinbill, Charles Cooper and George Murdock.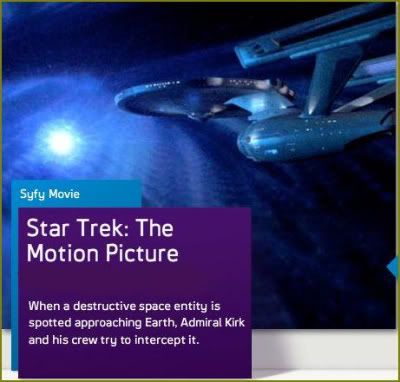 05:00 PM
Star Trek: The Motion Picture
When a destructive space entity is spotted approaching Earth, Admiral Kirk resumes command of the Starship Enterprise in order to intercept, examine, and hopefully stop it.
Cast includes William Shatner, Leonard Nimoy, DeForest Kelley, James Doohan, George Takei, Majel Barrett, Walter Koenig, Nichelle Nichols, Persis Khambatta, Stephen Collins, Grace Lee Whitney and Mark Lenard.