Source:
Fancast
[follow link for complete interview]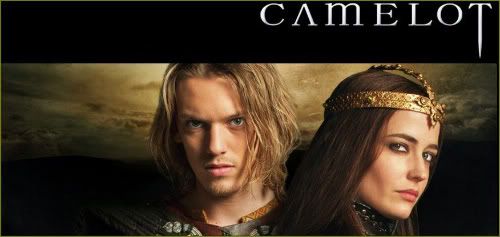 FANCAST: Joseph Fiennes Makes Magic in 'Camelot'
by Julie Zied
Feb 25th, 2011
He's back. After starring in "FlashForward," whose fans were outraged when ABC canceled the series,Joseph Fiennes returns to TV in Starz's re-telling of the classic King Arthur tale, "Camelot." The 10-episode series debuts April 1, but Starz is sneaking the opening installment this Sunday, following the finale of "Spartacus: Gods of the Arena." (You'll also be able to watch it here on
xfinitytv.com
). In it, Fiennes plays the manipulative sorcerer Merlin, who is pitted against the new Royal, (Jamie Cambell Bower), and Arthur's half-sister and fellow magician, Morgan Le Fey, (Eva Green). We recently caught up with Fiennes to discuss this new role and his own experience with the dark arts...

Joseph Fiennes as Merlin
...
Q: You've mentioned before that this is a more modern version of the classic story. How so?
Joseph Fiennes
: "We give it our twist for a modern audience. We allow them in intellectually on the idea of myth, and I think that for me is a really strong element within the show. The challenge is also to have fun with a brilliant, inexhaustible character, because the material is pretty extensive. But Merlin himself, you could look at him in so many different ways. And the research I've done, there's a multitude of different tellings, from the Welsh, the Scottish, the Brits, and the Irish — they all have their version of him. What I loved is the duality that he is both Machiavellian and devious, and angelic. He's not to be trusted. And I said, God help me, that he was a cross between Donald Rumsfeld and Obi Wan Kanobi. He's a real puppet master..."
Premieres April 1st 10pm e/p on Starz.