Source: Syfy
schedulebot
SYFY SUNDAY MOVIE MARATHON FEBRUARY 27, 2011
10:30 AM
Mutant Chronicles
28th century soldier Mitch Hunter leads a fight against an army of underworld Mutants.
Cast includes Thomas Jane, Ron Perlman, Devon Aoki, Sean Pertwee, Benno Fürmann and John Malkovich.
01:00 PM
Judge Dredd
In a dystopian future, Dredd, the most famous judge (a cop with instant field judiciary powers) is convicted for a crime he did not commit while his murderous counterpart escapes.
Cast includes Sylvester Stallone, Armand Assante, Rob Schneider, Jürgen Prochnow, Max von Sydow, Diane Lane, Joan Chen and Balthazar Getty.
03:00 PM
Star Trek: Nemesis
After the Enterprise is diverted to the Romulan planet of Romulus, supposedly because they want to negotiate a truce, the Federation soon find out the Romulans are planning an attack on Earth.
Cast includes Patrick Stewart, Jonathan Frakes, Brent Spiner, LeVar Burton, Michael Dorn, Marina Sirtis, Gates McFadden, Tom Hardy, Ron Perlman, Dina Meyer, Jude Ciccolella, Kate Mulgrew, Wil Wheaton and Whoopi Goldberg.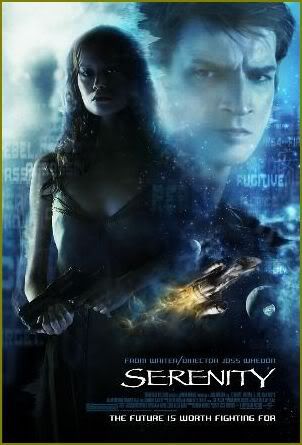 05:30 PM
Serenity
The renegade crew of a space freighter hides a fugitive from a totalitarian regime in writer-director Joss Whedon's exciting follow-up to his cult TV series "Firefly."
Cast includes Nathan Fillion, Gina Torres, Alan Tudyk, V's Morena Baccarin, Chuck's Adam Baldwin, Stargate Atlantis' Jewel Staite, Sean Maher, The Cape's Summer Glau, Ron Glass, Chiwetel Ejiofor, Numbers' David Krumholtz and Bones' Tamara Taylor.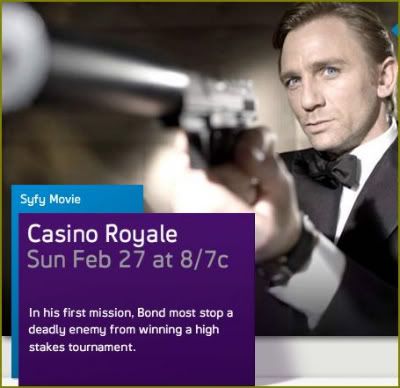 08:00 PM
Casino Royale
In his first mission, James Bond must stop Le Chiffre, a banker to the world's terrorist organizations, from winning a high-stakes poker tournament at Casino Royale in Montenegro.
Cast includes Daniel Craig, Eva Green, Mads Mikkelsen, Judi Dench, Jeffrey Wright, Giancarlo Giannini and Caterina Murino.
11:00 PM
The Rocketeer
In 1938 Los Angeles, a pilot (Bill Campbell) finds a rocket-pack that enables him to fly.
Cast includes Bill Campbell, Jennifer Connelly, Alan Arkin, Timothy Dalton, Paul Sorvino, Terry O'Quinn and Ed Lauter.
01:30 AM
Judge Dredd
03:30 AM
Halloween: The Curse Of Michael Myers
The Shape returns to a small town for another night of deadly tricks.
Cast includes Donald Pleasence, Paul Rudd, Marianne Hagan, Mitch Ryan, Kim Darby and Bradford English.