Source:
Media Blvd. Magazine
[follow link for complete interview]
The Boys of 'Warehouse 13' Talk About the Holiday Special
Tuesday, 07 December 2010
By Jamie Ruby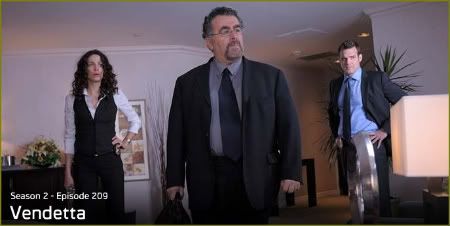 The boys of Warehouse 13, Eddie McClintock and Saul Rubinek return for a discussion about their upcoming holiday special, and their upcoming films. Eddie actually called in from the Bulgarian set of his latest film, Legend of The Boogeyman. The Warehouse 13 airs tonight, along with the Eureka holiday special on SyFy.
...
Question> Awesome. So I don't know this may I guess be revealed in the episode but I haven't seen it yet, what do you two think would be what your characters would most want for Christmas thinking of anything?

Saul Rubinek>
You meant Hanukkah for me didn't you?
Question>
Yes. Hanukkah I'm sorry.
Eddie McClintock>
Pete would like to get all of his CD collection back because apparently it was lost in the mail from Washington, D.C. to South Dakota. He's kind of stuck out there at Leena's with no tunes, because Leena has Justin Bieber and she plays the same CD all day.
Saul Rubinek>
That's funny.
Eddie McClintock>
I know.
Saul Rubinek>
I think it actually happens for Artie. I think Artie is kind of like a Christmas and Hanukkah grump and he's kind of not really into all of that stuff and really would prefer it all to go away, and partly because it would remind him of the family that he doesn't have and he's reminded that he does already have a family, which are these people, in fact we're all reminded of that in this episode. And Artie's life has been so solitary and so removed from ordinary family life and he has to deal with so many dark things that holiday season for many people around the world brings up what they don't have and what they can't have, and that's certainly true for Artie and it's brought home to him in a very real way by having his estranged father as part of the episode...