Source: Syfy
schedulebot
[
NOTE: Syfy schedule subject to change(s)
]

SCIFI MOVIE MARATHON - SYFY: SCHEDULE TUESDAY, SEPTEMBER 10, 2013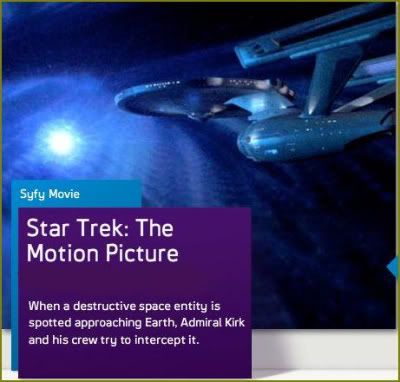 08:00 AM Star Trek: The Motion Picture
Star Trek
(original series movies) cast include William Shatner, Leonard Nimoy, DeForest Kelley, James Doohan, George Takei, Walter Koenig and Nichelle Nichols.
Adm. Kirk (
William Shatner
) and the crew seek an intelligent alien entity.
Guest cast includes Majel Barrett, Persis Khambatta, Stephen Collins, Grace Lee Whitney and Mark Lenard.
11:00 AM Stargate: The Ark Of Truth
Stargate SG-1 cast includes Amanda Tapping, Christopher Judge, Michael Shanks, Ben Browder, Claudia Black and Beau Bridges.
The
SG-1
team searches for an ancient artifact that will enable them to defeat their enemies, the Ori. Written and directed by
Robert C. Cooper
.
Guest stars include Currie Graham,
Homeland's
Morena Baccarin,
Revolution's
Tim Guinee, Julian Sands, Sarah Strange, Michael Beach, Gary Jones, Martin Christopher,
Eureka's
, Chris Gauthier, Eric Breker, Matthew Walker, Alisen Down, Gabrielle Rose, Fabrice Grover, Spencer Maybee, Greg Anderson, Doug Abrahams and Morris Chapdelaine.
01:00 PM Stargate: Continuum
Stargate SG-1 cast includes Richard Dean Anderson, Amanda Tapping, Christopher Judge, Michael Shanks, Ben Browder, Claudia Black and Beau Bridges.
After two members of the
SG-1
team disappear into thin air, the remaining members of the elite military unit return to Earth and discover that their history has been erased.
Guest stars include William Devane, Cliff Simon, Don S. Davis, Steve Bacic, Gary Jones, Jacqueline Samuda, Peter Williams, Ron Halder, Vince Crestejo, Jay Williams,
Falling Skies'
Colin Cunningham, Michael Bernacchi, Wesley K. Koshoffer, Jason M. Geddes, Alan M. Roche and Barry Campbell.
03:00 PM Quantum Of Solace
James Bond (
Daniel Craig
) seeks to avenge betrayal by a loved one while trying to stop a renegade environmentalist from monopolizing the "world's most precious [natural] resource."
Judi Dench
returns as M, and
Jeffrey Wright
is again on board as
CIA
operative Felix Leiter.
Cast includes Daniel Craig, Olga Kurylenko, Mathieu Amalric, Judi Dench, Giancarlo Giannini, Gemma Arterton, Jeffrey Wright, David Harbour, Jesper Christensen, Anatole Taubman, Rory Kinnear, Tim Pigott-Smith, and briefly,
Castle's
Stana Katic.
05:30 PM The Bourne Ultimatum
Jason Bourne (
Matt Damon
) searches for his own identity after a bout of amnesia, leading him on a globe-trekking trip in which he must avoid the zinging bullets of cops and assassins who are out to stop him before he uncovers the truth.
Cast includes Matt Damon, Julia Stiles,
Alpha's
David Strathairn, Scott Glenn, Paddy Considine, Édgar Ramírez, Albert Finney, Joan Allen, Tom Gallop and Corey Johnson.
[Time out for Syfy Tuesday Programming]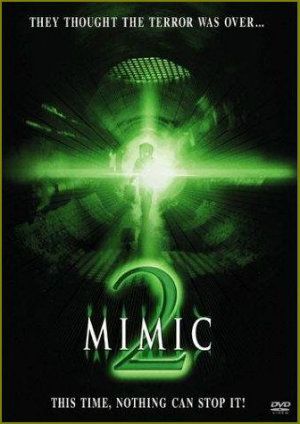 01:00 AM Mimic 2
When a cockroach-spread plague threatened to decimate the child population of New York City in the original
Mimic
, biologist Susan Tyler and her research associates developed a species of "
Judas
" bugs and introduced them into the environment, where they were to "
mimic
" the diseased roaches and infiltrate their grubby habitats. The plan worked until the bugs evolved to mimic their next prey.....humans! Just when they were all thought to be dead, the giant cockroaches are back, and this time they've mutated to take on human form!
Cast includes Alix Koromzay, Bruno Campos,
Blue Bloods'
Will Estes, Gaven E. Lucas, Edward Albert, Jon Polito, Jody Wood, Jim O'Heir and Brian Leckner.