Source: Syfy
schedulebot
[
NOTE: Syfy schedule subject to change(s)
]

ADVENTURE MOVIE MARATHON - SYFY: SCHEDULE MONDAY, SEPTEMBER 9, 2013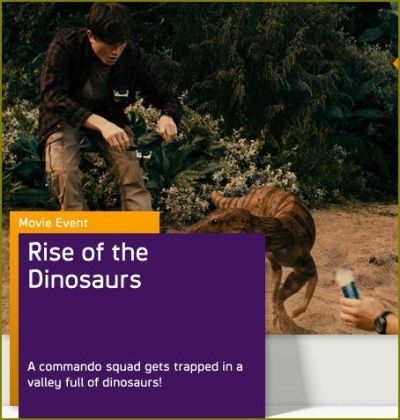 10:00 AM Rise Of The Dinosaurs
While returning from a military expedition to rescue a beautiful kidnapped scientist an elite commando unit crash lands in a dense, remote tropical jungle. The commandos find themselves cut off from radio contact in a lost world populated by dinosaurs. Hunted on all sides and with their ammunition dwindling they must find a way to escape and return to civilization before becoming prey to the prehistoric predators.
Cast includes Gary Stretch,
Stargate SG-1's
Corin Nemec, Vernon Wells, Michael Worth, Natascha Berg, Alicia Ziegler, Israel Sáez de Miguel, Adrian Clissold, Philip Coc, Ganney Dortch, Aaron Erskine, John Frear, Stevie Hack, Kameisha Harris, Adran Ramirez, Jason Taylor and Berne Velasquez.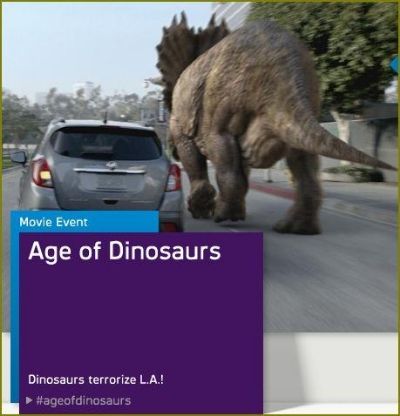 12:00 PM Age Of Dinosaurs
Using breakthrough flesh-regeneration technology, a biotech firm creates a set of living dinosaurs. But when the creatures escape their museum exhibit and terrorize Los Angeles, a former firefighter (
Treat Williams
) must rescue his teenage daughter (
Jillian Rose Reed
) from the chaos brought on by the
Age of Dinosaurs
.
Cast includes Treat Williams, Ronny Cox, Jillian Rose Reed, Joshua Michael Allen, Max Aria, Johannes Goetz, Julia Paul, Arthur Richardson, Jose Rosete, Laura Tuny, Roani Whent, Kelly Dolan, Andray Johnson and Roger Lim.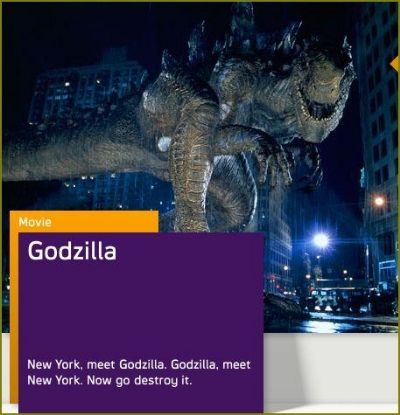 02:00 PM Godzilla
Special-effects vehicle in which a scientist (
Matthew Broderick
) teams with a mysterious agent (
Jean Reno
) to try to stop the massive, radioactive lizard from smashing Manhattan.
Cast includes Matthew Broderick, Jean Reno, Maria Pitillo, Hank Azaria, Kevin Dunn, Michael Lerner, Harry Shearer, Arabella Field, Vicki Lewis, Doug Savant, Nancy Cartwright, Richard Gant, Clyde Kusatsu and Glenn Morshower.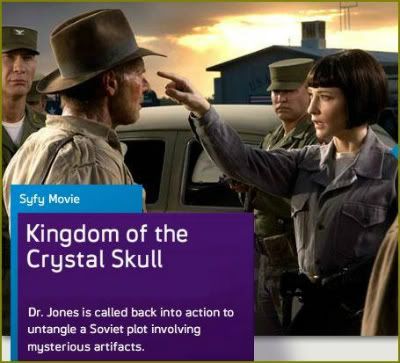 05:00 PM Indiana Jones And The Kingdom Of The Crystal Skull
Indiana Jones (
Harrison Ford
) gets a cold war-era update in this fan-friendly pastiche of 1950s preoccupations and paranoia. His mission: rescuing an old friend who has vanished after discovering a strange artifact that could hold the key to world domination. Old friends, including hard-drinking ex-love Marion Ravenwood
(Karen Allen
), new enemies like Russian she-wolf Irina Spalko (
Cate Blanchett
) and spectacular action sequences abound.
Cast includes Harrison Ford, Cate Blanchett, Karen Allen, Shia LaBeouf, Ray Winstone, John Hurt, Jim Broadbent and Alan Dale.
08:00 PM The Bourne Ultimatum
Jason Bourne (
Matt Damon
) searches for his own identity after a bout of amnesia, leading him on a globe-trekking trip in which he must avoid the zinging bullets of cops and assassins who are out to stop him before he uncovers the truth.
Cast includes Matt Damon, Julia Stiles,
Alpha's
David Strathairn, Scott Glenn, Paddy Considine, Édgar Ramírez, Albert Finney, Joan Allen, Tom Gallop and Corey Johnson.
10:30 PM Quantum Of Solace
James Bond (
Daniel Craig
) seeks to avenge betrayal by a loved one while trying to stop a renegade environmentalist from monopolizing the "world's most precious [natural] resource."
Judi Dench
returns as M, and
Jeffrey Wright
is again on board as
CIA
operative Felix Leiter.
Cast includes Daniel Craig, Olga Kurylenko, Mathieu Amalric, Judi Dench, Giancarlo Giannini, Gemma Arterton, Jeffrey Wright, David Harbour, Jesper Christensen, Anatole Taubman, Rory Kinnear, Tim Pigott-Smith, and briefly,
Castle's
Stana Katic.