Source: Syfy
schedulebot
[
NOTE: Syfy schedule subject to change(s)
]

FRIDAY THE 13TH (TV SERIES AND MOVIES) - SYFY: MARATHON SCHEDULE THURSDAY, SEPTEMBER 12, 2013
Friday The 13th: The series cast includes Louise Robey, Chris Wiggins, Steve Monarque and John D. LeMay.
08:00 AM Friday The 13th: The Series Femme Fatale
Lila Lita (
Kate Reid
), now a helpless invalid, comes to life as a young woman each time her husband shows "
A Scandalous Woman
," an item on Curious Goods' manifest.
Guest stars include Gordon Pinsent, Kate Reid, Chris Moore, Jed Dixon, Louise Kidney, Lorretta Bailey, Kim Huffman and Matt Birman.
09:00 AM Friday The 13th: The Series Epitaph For A Lonely Soul
A mortician is surprised when a corpse comes alive after he uses an antique aspirator that was supposedly used by another mortician to kill his wife.
Guest stars include Neil Munro, Monika Schnarre, Barclay Hope, Sam Malkin, James Mainprize, Jackie McLeod and Claire Cellucci.
10:00 AM Friday The 13th: The Series Mightier Than The Sword
A cursed pen transforms a hack writer into a bestselling novelist noted for his realistic portraits of serial killers---an accuracy he achieves by creating real killers.
Guest stars include Colm Feore, Roxanne Hill, Markus Parilo, James Kee, Michael Caruana, James O'Regan, Donna Goodhand and Tony De Santis.
11:00 AM Friday The 13th: The Series Midnight Riders
An unusual alignment of the planets causes dead motorcyclists to come alive and seek revenge for their deaths, which occurred 17 years before.
Guest stars include Dennis Thatcher, Lawrence King, Andrea Roth, David Orth, John Friesen, Fiona Reid, John Bayliss, Jamie Jones and Jasper Cole.
12:00 PM Friday The 13th: The Series Year Of The Monkey
A Japanese industrialist (
Robert Ito
) uses cursed monkey statues that symbolize the adage "
See no evil, hear no evil, speak no evil
" to test his children's honor.
Guest stars include Robert Ito, Tia Carrere, John Fujioka, Leonard Chow, Von Flores, Jill Hennessy, Janet Lo and Lawrence Nakamura.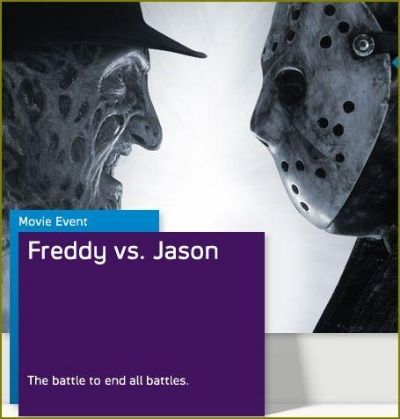 01:00 PM Freddy Vs. Jason
After Freddy (
Robert Englund
) resurrects Jason (
Ken Kirzinger
), the slasher-film icons go on a killing spree, but clash over who is doing a better job.
Cast includes Robert Englund, Ken Kirzinger, Monica Keena, Jason Ritter, Kelly Rowland, Chris Marquette, Brendan Fletcher, Katharine Isabelle, Lochlyn Munro, Kyle Labine, Tom Butler, David Kopp, Garry Chalk,
Eureka's
Chris Gauthier.
03:00 PM Friday The 13th Part IV: The Final Chapter
- * NEW to Syfy! *
After being mortally wounded and taken to the morgue, murderer Jason Voorhees spontaneously revives and embarks on a killing spree as he makes his way back to his home at Camp Crystal Lake.
Cast includes Kimberly Beck, Peter Barton, Corey Feldman, Erich Anderson, Crispin Glover, Clyde Hayes, Barbara Howard, Lawrence Monoson, Joan Freeman and Antony Ponzini.
05:00 PM Friday The 13th Part V: A New Beginning
- * NEW to Syfy! *
Can it be that Jason is back, slashing and slaughtering his way through this fifth installment? Still haunted by his gruesome past, Tommy Jarvis (
John Shepherd
) - the boy who killed Jason Voorhees - wonders if somehow he is connected to brutal slayings occurring in and around the secluded halfway house where he now lives.
Cast includes Melanie Kinnaman, John Shepherd, Shavar Ross, Richard Young, Marco St. John, Juliette Cummins, Carol Locatell, Vernon Washington, John Robert Dixon, Mark Venturini, Richard Lineback, Corey Feldman, Ric Mancini, Miguel A. Núñez Jr., Corey Parker and Debi Sue Voorhees.
07:00 PM Friday The 13th Part VI: Jason Lives
- * NEW to Syfy! *
There seems to be nothing that can keep the maniac down. Tommy Jarvis (
Thom Mathews
) goes to the graveyard to get rid of Jason Voorhees' body, but he accidentally brings him back to life. Jason wants revenge and Tommy must defeat him once and for all!
Cast includes Thom Mathews, Jennifer Cooke, David Kagen, Renée Jones, Kerry Noonan, Darcy DeMoss, Tom Fridley, Matthew Faison, Tony Goldwyn, Ron Palillo, Michael Swan and Cynthia Kania.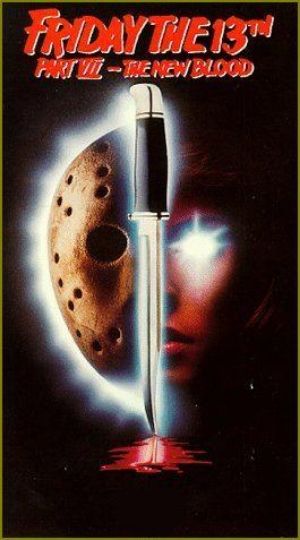 09:00 PM Friday The 13th Part VII: The New Blood
- * NEW to Syfy! *
Slasher sequel, with Jason (
Kane Hodder
) resurrected by a teen psychic (
Lar Park Lincoln
). Years after Tommy Jarvis chained him underwater at Camp Crystal Lake, the hulking killer Jason Voorhees returns to the camp grounds when he is released accidentally by a teenager with psychic powers.
Cast includes Jennifer Banko, John Otrin, Susan Blu, Lar Park-Lincoln, Terry Kiser, Kevin Spirtas, Susan Jennifer Sullivan, Heidi Kozak, Kane Hodder, William Butler, Elizabeth Kaitan, Jon Renfield, Diane Almeida and Craig Thomas.
11:00 PM Friday The 13th Part VIII: Jason Takes Manhattan
The masked killer (
Kane Hodder
) slices and dices high-school grads on their class trip. A passing boat bound for New York pulls Jason Voorhees along for the ride. Look out New York, here comes hell in a hockey mask.
Cast includes Todd Caldecott, Tiffany Paulsen, Tim Mirkovich, Kane Hodder, Jensen Daggett, Barbara Bingham, Alex Diakun, Peter Mark Richman, Warren Munson, Fred Henderson, Gordon Currie, Saffron Henderson, Martin Cummins and
Warehouse 13's
Kelly Hu.
01:00 AM Friday The 13th: The Series Repetition
A journalist who accidentally killed a girl is tormented by a cursed locket.
Guest stars include David Ferry, Kate Trotter, Vicki Wauchope, Kay Tremblay, Sharry Flett, Stephen Hunter, Aaron Ross Fraser, R.D. Reid and Brent Titcomb.
02:00 AM Friday The 13th: The Series The Long Road Home
Micki and Johnny (
Louise Robey
,
Steve Monarque
) wind up in an eerie house after two men (
Geza Kovacs
,
Angelo Rizacos
) vandalize their car at a diner.
Guest stars include Géza Kovács, Angelo Rizacos, Michael Philip, Eric Coates and Barbara Radecki.
03:00 AM Friday The 13th: The Series My Wife As A Dog
A firefighter, upset over his wife leaving him and his dog's failing health, finds a cursed dog leash in a burning house.
Guest stars include Denis Forest, Kim Nelles, Jayne Eastwood, Ken James, Layne Coleman, Vincent Dale, Alan Powell, Charles Kerr, Diana Rowland and Jennifer Griffin.
04:00 AM Friday The 13th: The Series The Tree Of Life
A clinic is run by a doctor (
Gale Garnett
) who makes human sacrifices to the pagan diety Cernummos.
Guest stars include Gale Garnett, Brenda Bazinet, John Innes, Tedde Moore, Barbara Gordon, Robert Bidaman, Ashleigh Ann Wood, Carole Galloway and Graham McPherson.
05:00 AM Friday The 13th: The Series The Spirit Of Television
Micki (
Louise Robey
) investigates two deaths and discovers that both victims were clients of psychic Ilsa Van Zandt (
Marj Dusay
).
Guest stars include Marj Dusay, Paul Humphrey, Belinda Metz, Paul Bettis, Nancy Cser, Susan Cox, Hamish McEwan, Elliott Smith, Jed Dixon, Ida Carnevali and Leslie Yeo.