Source: Syfy
schedulebot
[
NOTE: Syfy schedule subject to change(s)
]

VAMPIRE, LEPRECHAUN AND FREDDY MOVIE MARATHON - SYFY: SCHEDULE SUNDAY, AUGUST 18, 2013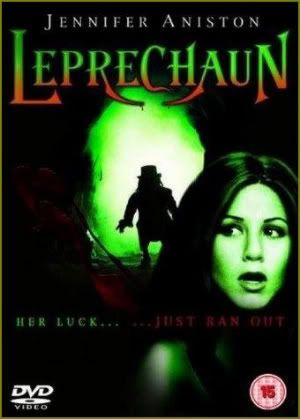 09:00 AM
Leprechaun
A man steals a leprechaun's pot of gold in Ireland, unwittingly setting himself up for the evil imp's bloodthirsty revenge.
Cast includes Warwick Davis, Jennifer Aniston, Ken Olandt, Mark Holton, Robert Hy Gorman and Shay Duffin.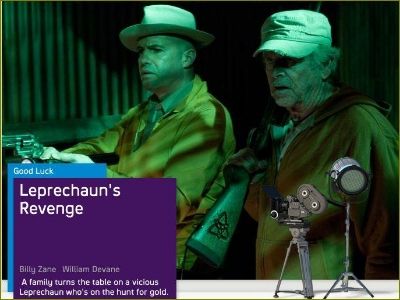 11:00 AM
Leprechaun's Revenge
An evil leprechaun who has been imprisoned within the roots of a majestic old oak tree, is accidentally set loose on St. Patrick's Day. Once free, he takes out his bloody revenge on the descendants of the people who originally imprisoned him.
Cast includes Billy Zane,
Stargate SG-1's
William Devane, Courtney Halverson, Kelly Washington, Azure Parsons, Kevin Mangold, Matty Ferraro, Karl Herlinger and Chase Boltin.
01:00 PM
Daybreakers
The vampire genre is given a novel approach with lackluster results in this noir-ish horror film from the Australian filmmaking team of
Michael
and
Peter Spierig
. Existing in the near future, the picture hypothesizes a vampiric takeover of the Earth wherein the fanged population continues to go about their lives while humankind is drained of blood in order to keep the masses alive. The film's most delectable bits come when the vamps go through withdrawal and transform into blood-thirsty monsters, hungry for sustenance from wherever they can get it -- including themselves.
Cast includes Ethan Hawke, Willem Dafoe, Sam Neill, Claudia Karvan, Michael Dorman, Isabel Lucas and Vince Colosimo.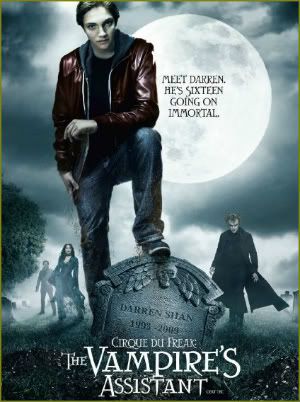 03:00 PM
Cirque Du Freak: The Vampire's Assistant
Small-town teen Darren (
Chris Massoglia
) falls in with a traveling freak show after being transformed into a vampire by the ringmaster. As Darren makes friends with the freaks, he discovers that the vampires are involved in a war with their rivals, the Vampanese, and that the supernatural underworld is about to explode.
Cast includes John C. Reilly, Josh Hutcherson, Chris Massoglia, Jessica Carlson,
Fringe's
Michael Cerveris, Ray Stevenson and Patrick Fugit.
05:00 PM
Nightmare On Elm Street 3: The Dream Warriors
Robert Englund
returns as the man of your dreams, terrorizing teens and driving them to suicide.
Cast includes Heather Langenkamp, Craig Wasson, Patricia Arquette, Robert Englund, Ken Sagoes, Rodney Eastman, Jennifer Rubin, Bradley Gregg, Ira Heiden, Laurence Fishburne, Penelope Sudrow, John Saxon, Priscilla Pointer, Clayton Landey, Brooke Bundy, Nan Martin, Stacey Alden, Dick Cavett, Zsa Zsa Gabor amd Paul Kent.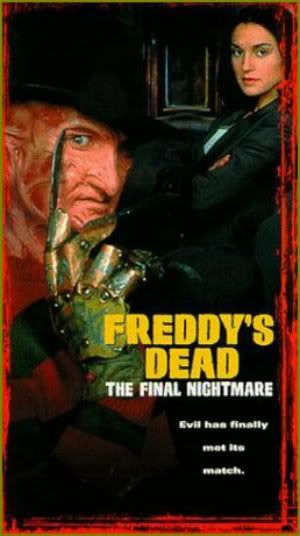 07:00 PM
Freddy's Dead: The Final Nightmare
Elm Street's sadistic sandman (
Robert Englund
) encounters his long-lost daughter (
Lisa Zane
).
Cast includes Robert Englund, Lisa Zane, Shon Greenblatt, Lezlie Deane, Ricky Dean Logan, Breckin Meyer, Yaphet Kotto, Tom Arnold, Roseanne, Elinor Donahue, Johnny Depp, David Dunard, Marilyn Rockafellow and Lindsey Fields.
09:00 PM
Freddy Vs. Jason
After Freddy (
Robert Englund
) resurrects Jason (
Ken Kirzinger
), the slasher-film icons go on a killing spree, but clash over who is doing a better job.
Cast includes Robert Englund, Ken Kirzinger, Monica Keena, Jason Ritter, Kelly Rowland, Chris Marquette, Brendan Fletcher, Katharine Isabelle, Lochlyn Munro, Kyle Labine, Tom Butler, David Kopp, Garry Chalk,
Eureka's
Chris Gauthier.
11:00 PM
Daybreakers
01:00 AM
Leprechaun
03:00 AM
Leprechaun's Revenge