Source: Syfy
schedulebot
[
NOTE: Syfy schedule subject to change(s)
]

SWAMP MOVIE MARATHON - SYFY: SCHEDULE THURSDAY, SEPTEMBER 5, 2013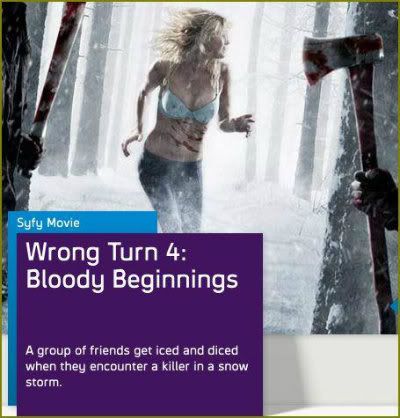 11:00 AM Wrong Turn 4: Bloody Beginnings
Tenika Davis
stars in this horror prequel about a group of college students who stumble upon an abandoned sanatorium and are hunted by the facility's former patients.
Cast includes Sean Skene, Blane Cypurda, Dan Skene, Tristan Carlucci, Scott Johnson, Bryan Verot, Jennifer Pudavick, Tenika Davis, Kaitlyn Wong, Terra Vnesa, Victor Zinck Jr., Dean Armstrong, Ali Tataryn, Samantha Kendrick, Arne MacPherson and Kristen Harris.
01:00 PM Wrong Turn 5: Bloodlines
A hungry clan of inbred cannibals feast on unsuspecting college students during a music festival in West Virginia.
Cast includes Doug Bradley, Camilla Arfwedson, Simon Ginty, Roxanne McKee, Paul Luebke, Oliver Hoare, Kyle Redmond-Jones, Amy Lennox, Duncan Wisbey, Radoslav Parvanov, George Karlukovski, Borislav Iliev, Peter Brooke and
Game of Thrones
Finn Jones.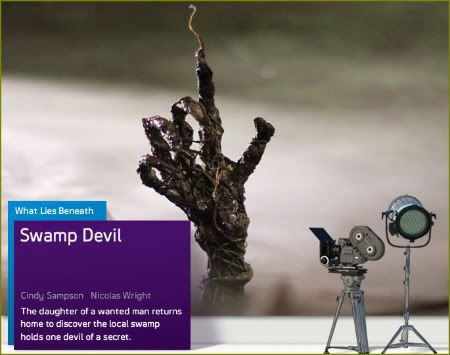 03:00 PM Swamp Devil
A father is accused of committing murders in a small town in America's deep south, prompting his daughter to clear his name and inadvertently expose the inhuman killer behind the crimes.
Cast includes Bruce Dern, Cindy Sampson, Nicolas Wright, Robert Higden and Allison Graham.
05:00 PM Swamp Volcano
A vulcanologist tries to prevent a catastrophic eruption that would destroy civilization after an oil-drilling operation strikes a magma flow in the Gulf of Mexico and inadvertently creates a volcano in Miami.
Cast includes Stacey Asaro, Owen Davis, Cleavant Derricks, Joseph Diaz, Miles Doleac, Brad Dourif, J.D. Evermore, Griff Furst, Lauren Graham, Emily D. Haley and Rachel Hunter.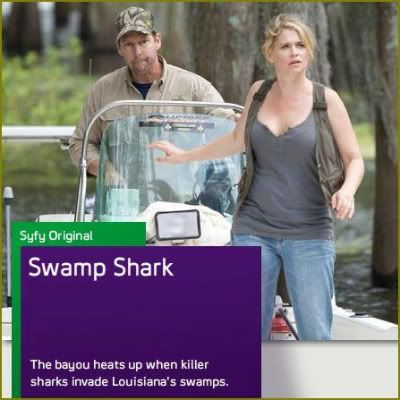 07:00 PM Swamp Shark
An animal-smuggling deal gone bad puts a man-eating shark into a swampy backwoods river, where it stalks swimmers and boaters and imperils the town's annual Gator Fest.
Cast includes Kristy Swanson, Robert Davi, Richard Tanne, D.B. Sweeney, Jason Rogel, Jeff Chase, Sophie Sinise, Wade Boggs and Christopher Shane Berry.
09:00 PM Ragin' Cajun Redneck Gators
- * Syfy Premiere! *
Mutant gators take a bite out of the bayou. Syfy's Next Original Movie - Ragin' Cajun Redneck Gators. Thursday September 5th @ 9/8c on Syfy!
Two feuding Cajun families must work together to rid the bayou of gigantic, mutated, predatory alligators that are the result of a bad batch of moonshine that was discarded, but the toxic moonshine causes anyone bit by a gator to turn into one.
Cast includes
Eureka's
Jordan Hinson,
Continuum's
Victor Webster, Christopher Berry, Shanna Forrestall, Ritchie Montgomery, Amy Brassette, John Chriss, Thomas Francis Murphy, Michael Baird and Steven A. Lynch.
CLICK HERE TO VIEW A VIDEO SNEAK PEEK!
11:00 PM Dinoshark
A dinosaur-shark hybrid terrorizes a resort in Mexico, and it's up to a young fishing boat captain to stop it.
Cast include
Haven's
Eric Balfour, Iva Hasperger, Aarón Díaz, Humberto Busto and Richard Miller.
01:00 AM Ragin' Cajun Redneck Gators
03:00 AM Swamp Volcano