Source:
Starpulse
[follow link for complete interview]

STARPULSE: 'Hell On Wheels' Star Anson Mount Talks Season 3 Of The AMC Series
August 9th, 2013
By:
Neil Turner
We were fortunate enough to catch up with
Anson Mount
on the phone to talk about
AMC's
hit series
Hell on Wheels
. For the few of you who don't know,
Hell on Wheels
is a Western television series in its third season. Set in the 1800's, the series centers on the settlement that accompanied the construction of the first transcontinental railroad, referred to as "
Hell on Wheels
."
Anson
plays the main character, Cullen Bohannan, a former soldier and extremely determined man on a hunt to avenge his murdered wife and son.
The series is averaging three million viewers an episode and is gaining popularity at a rapid rate, it's scheduled for a two hour premiere Saturday, August 10th at 9/8c.
Here's actor
Anson Mount
who plays one of TV's 'baddest' vigilantes...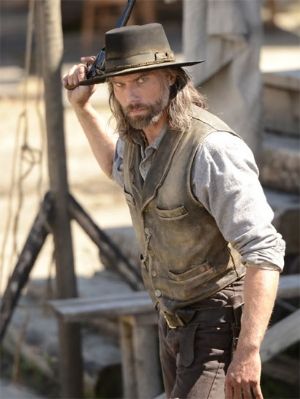 ...
Starpulse: How has it been being back to work on this project again?
Anson Mount
: "
It's the best job of my life! I love riding the horses and being out here in beautiful Calgary shooting the series. I absolutely love everything about what I do.
"
Starpulse: I heard John Wirth is the new executive producer of the show; how is that going?
Anson Mount
: "
Wonderful. I think he's doing a wonderful job. He's a great writer and he's a great director. He fits right in with everything going on and has a great vision for the show.
"
Hell on Wheels
season three premieres on an NEW night - Saturday - August 10, 2013 at 9/8C with a
two-hour
premiere episode on
AMC TV
.
CLICK HERE FOR A VIDEO SNEAK PEEK!