Source:
SciFi and TV Talk
[follow link for complete interview]
SCIFI AND TV TALK: The Politician's Wife - Interview with Continuum's Sarah Edmondson
by Steve Eramo
08/09/2013
Having to navigate the waters when you are part of the political "machine" is complex and tricky. Being the spouse of someone in politics is also sometimes difficult, especially when there is the hint of a scandal. In the season one
Continuum
episode
The Politics of Time
, Jim Martin [
Tahmoh Penikett
], the leading candidate for the head of Vancouver's local dock workers union, is a suspect in the murder of a journalist. Standing by Jim's side, and perhaps knowing more than she initially lets on, is his wife Heather, played by actress
Sarah Edmondson
.
"
Heather is quite a fun character to play
," says
Edmondson
. "
I'm often cast as the girl next door, easygoing-type, but Heather is quite cold, and the biggest challenge is not playing her too bitchy. If you've seen this Continuum episode, there was also the whole question of is she innocent? Is she guilty? What role did Heather play in what happened? She's there to support her husband Jim, played by Tahmoh Penikett.
(
Rachel Nichols and Sarah Edmondson from Continuum's 'The Politics of Time'
)
"
He's the one in the public eye, but being his wife also comes with its challenges and trying to find that balance between how she relates to him and supports him was something Tahmoh and I spent a great deal of time on. The two of us are both very dedicated actors, and we looked at what it would take to fill out or flesh out our character's back story as well as their relationship. I don't know if other people picked that up, but I feel like it's there, and Tahmoh and I built a very solid foundation that carried over very nicely to the second episode that I did this year.
"
No stranger to the audition process,
Edmondson
had read once or twice for roles on
Continuum
, and although it took her more than one shot to ultimately book the part of Heather Martin, it was well worth the wait.
"
Whenever I went in to read for the show I'd think, 'Wow, what a great series,' and I had a wonderful experience with the audition process
," she notes. '
The show runner and creative mind behind the whole thing, Simon Barry, is often in the casting room, and every time I went in, he made me feel very welcome and safe. Oftentimes the audition process can be somewhat tough, but Simon is always very warm and kind, so I loved auditioning for them. By the time I went in for Heather, I felt like I was going in and seeing family, which was nice...
"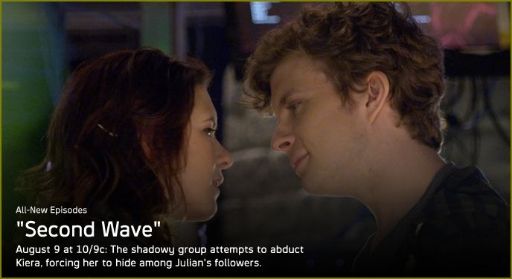 Continuum
airs Friday at 10/9C on
Syfy
(US).
CLICK HERE TO VIEW THE EPISODE TRAILER FOR 'SECOND WAVE,' AIRING AUGUST 9, 2013.