Source:
TV Worth Watching
[follow link for complete column]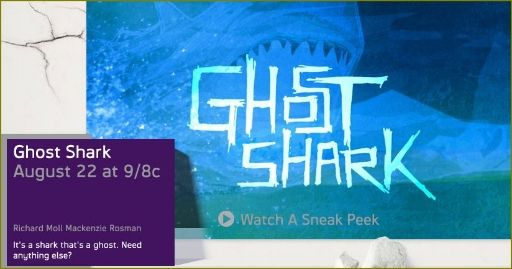 TV WORTH WATCHING: BEST BETS THURSDAY, AUGUST 22, 2013
...
GHOST SHARK
Syfy, 9:00 p.m. ET
Early in the first season of
Saturday Night Live
, the very same year that
Jaws
had spooked moviegoers all summer,
Chevy Chase
got lots of laughs by dressing up as a "
land shark
" and preying on victims by ringing their apartment doorbells and gaining access under false pretenses ("
Candygram
!"). Now
Syfy
, continuing its run of intentionally absurd creature-feature telemovies, presents
Ghost Shark
, about a killer shark that's not only dead, but able to surface wherever there's water. (The best reason ever for keeping the toilet seat lid down.) Recommended only as a so-bad-it's-still-bad type of entertainment.
CLICK HERE TO VIEW THE MOVIE TRAILER