Source:
Entertainment Weekly
[follow link for complete column]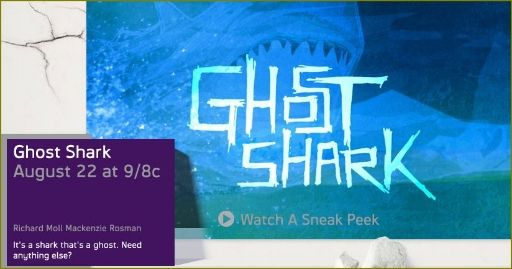 ENTERTAINMENT WEEKLY: TONIGHT'S BEST TV THURSDAY, AUGUST 22, 2013
A Daily Guide To Notable Shows
...
Ghost Shark
9:00 Syfy
The 7-year-old daughter of a
Syfy
exec reportedly inspired the idea for the network's latest proudly awful homage, and it only seems like she also wrote the script and directed the actors. A translucent shark rises from the dead and takes vengeance on a coastal community with a dark colonial history. Since the great white ghost can appear in any pocket of water — pool, toilet, rain — the only fun is seeing just how far the premise can be stretched.
Richard Moll
(
Night Court
) plays the batty lighthouse keeper who knows the town's secret, and a bunch of teens try to solve the Scooby-Doo-like mystery. It's dreadful. Be sure to tweet about it.
RATING: F
—
Jeff Labrecque
CLICK HERE TO VIEW THE MOVIE TRAILER