Source: Syfy
schedulebot
[
NOTE: Syfy schedule subject to change(s)
]

ADVENTURE MOVIE MARATHON - SYFY: SCHEDULE SATURDAY, SEPTEMBER 7, 2013
09:30 AM Manticore
Heather Donahue
("
The Blair Witch Project
"),
Robert Beltran
("
Star Trek: Voyager
"), and
Chase Masterson
("
Star Trek: Deep Space Nine
") star in this horror movie pitting U.S. soldiers in Iraq against a half-lion, half-dragon mythological beast.
Cast includes Robert Beltran, Jeff Fahey, Chase Masterson, Heather Donahue, Faran Tahir, A.J. Buckley, Jeff M. Lewis and Richard Gnolfo.
11:30 AM Sand Serpents
American soldiers take on man-eating worms in addition to the Taliban in this rousing sci-fi adventure.
Cast includes Jason Gedrick, Tamara Hope, Elias Toufexis, Sebastian Knapp, Michelle Asante and Chris Jarman.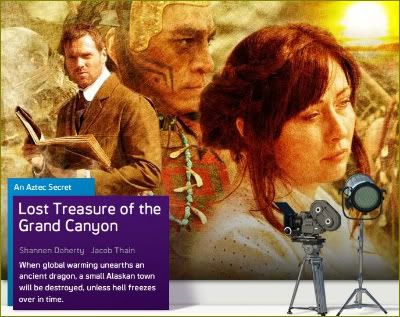 01:30 PM Lost Treasure Of The Grand Canyon
A quest to save an elderly archaeologist pits his daughter (
Shannen Doherty
) and his students against an Aztec god.
Cast includes
Saving Hope's
Michael Shanks, Shannen Doherty, Toby Berner, Rob McConachie, Luis Javier, Peter New, and
Stargate
alums JR Bourne, Heather Doerksen, Duncan Fraser, Byron Chief-Moon, Alan C. Peterson, Peter Kent and Darcy Laurie.
03:30 PM The Ruins
Four American tourists vacationing in Cancun visit an archaeological dig with some foreign friends in the Mayan jungle, but when local villagers attack them, they become trapped in a temple covered in vines that seem to be alive.
Cast includes Jonathan Tucker, Jena Malone, Laura Ramsey,
The Following's
Shawn Ashmore, Joe Anderson and Dimitri Baveas.
05:30 PM Raiders Of The Lost Ark
Indiana Jones (
Harrison Ford
) is assigned to find the mystically empowered Ark of the Covenant before the Nazis can obtain it for their own evil use.
Cast includes Harrison Ford, Karen Allen, Paul Freeman, Ronald Lacey, John Rhys-Davies, Denholm Elliott, Alfred Molina and Wolf Kahler.
08:00 PM Indiana Jones And The Last Crusade
Fedora and whip at the ready, Indiana Jones (
Harrison Ford
) sets off on his third cinematic outing accompanied by none other than his father, Henry (
Sean Connery
), to explore the cradle of civilization on a perilous hunt for the Holy Grail. The Nazis are also after the powerful relic, but no one is what they seem in this rousing quest for everlasting life.
Cast includes Harrison Ford, Sean Connery, Denholm Elliott, Alison Doody, John Rhys-Davies, Julian Glover, River Phoenix, Michael Byrne, Kevork Malikyan, Robert Eddison, Richard Young and Alexei Sayle.
11:00 PM The Ruins
01:00 AM Sands Of Oblivion
Morena Baccarin
and
Adam Baldwin
star in the tale of an archaeological dig that uncovers set pieces from "
The Ten Commandments
," and unleashes the anger of an Egyptian god.
Cast includes
Homeland's
Morena Baccarin, Adam Baldwin,
Continuum's
Victor Webster, George Kennedy, Azie Tesfai, Richard Kind, John Aniston, Kristina Sisco, Eric Artell, April Bowlby, Dan Castellaneta, Charles Lister, Jeff Manzanares, Raymond O'Connor, Alejandro Patino, Jack Samson and Chelse Swain.
03:00 AM Killer Mountain
In "
Killer Mountain
" – inspired by an ancient Himalayan legend – a team of climbers ("
Battlestar Galactica
" alums
Aaron Douglas
and
Paul Campbell
) is sent to a forbidden mountain to rescue a missing expedition. There, they discover that the mountain is the secret location of Shangri La -- protected by a bloodthirsty alien creature, the Druk.
Cast includes
Battlestar Galactica's
Aaron Douglas, Paul Campbell, Andrew Airlie, Curtis Caravaggio, Torrance Coombs, Byron Lawson,
Primeval: New World's
Crystal Lowe,
Once Upon A Time's
Mig Macario, Robin Nielsen, Zak Santiago and Dale Wilson.