Source:
TV Equals
[follow link for complete interview]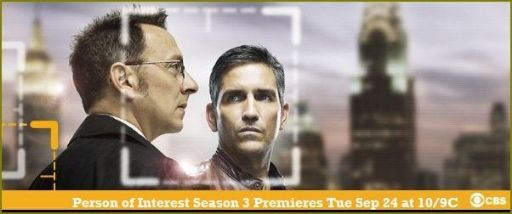 TV EQUALS: Exclusive: Executive Producers Jonathan Nolan and Greg Plageman Talk Person of Interest Season 3, PRISM & More
By
Americ Ngwije
July 10, 2013
"
You Are Being Watched!
"
The first words at the beginning of every episode of
Person of Interest
took on a special meaning recently when revelations came about surrounding
PRISM
which is the real life technological effort to spy on US communications. While not exactly the same as the Machine, the parallels are hard to mistake.
It is with that in mind that TV Equals was fortunate to chat with the always awesome
Jonathan Nolan
and
Greg Plageman
, the executive producers of
Person of Interest
. During the chat, they talked about what is coming for
POI
season 3, PRISM, Root's return and more. Check out what they had to say below and don't miss the season 3 premiere of
POI
which returns on a new night Tuesday September 24 at 10 pm on CBS...
...
TV Equals: Season two ended with quite a few questions regarding the Machine and the relationship between Finch and Reese. What can you tease about season three in terms of that relationship?
Jonathan Nolan
: "
Season 2 left us with some questions, but also some answers. What's apparent for the end of season two is that Finch and Reese will continue to receive the numbers as they always have done, that the relevant organization, the so called Pennsylvania Six, or what's left of them, control and her acolytes, will continue to receive irrelevant numbers. The question about what it is exactly the machine is interested in Root for is what we're definitely exploring going into the third season. The exact nature of how the Machine chooses to communicate and who it communicates with now that it is, as Finch said at the end of the season, free. What does that mean? What are the ramifications of that? We're going to explore all of those things.
"
TV Equals: So is it safe to say that we will be seeing Root come back for the new season?
Greg Plageman
: "
Oh, yeah. Amy Acker is just a phenomenal talent, and just that wild look in her eyes is something we think is irresistible when she falls into the character of Root, and I think the really appealing thing in terms of writing her, obviously, is that she entered the show as quite the diabolical figure, but then started to make a whole lot of sense. Clearly there is the connection between her and Harold Finch that cannot be denied...
Person of Interest
season three premieres on NEW night, Tuesday, September 24, at a NEW time, 10/9C, on
CBS
.