Source: Science Channel
schedulebot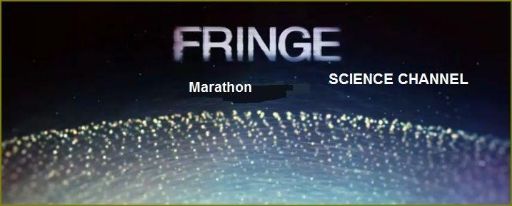 FRINGE - SCIENCE CHANNEL: SEASON TWO MINITHON SCHEDULE FRIDAY, JULY 26, 2013
Fringe cast includes Anna Torv, Joshua Jackson, John Noble, Jasika Nicole, Lance Reddick, Seth Gabel and Blair Brown.
4:00 PM
Momentum Deferred
While the
Fringe
division is alerted to a crime spree that's connected to the shape-shifters, Walter (
John Noble
) cooks up a prescription to help Olivia (
Anna Torv
) recall the details of her meeting with William Bell (
Leonard Nimoy
), and another subject of Walter's past experiments emerges.
Guest stars include
Continuum's
Roger R. Cross, Kirk Acevedo, Sebastian Roché, Theresa Russell,
Star Trek: The Original Series'
Leonard Nimoy, Ryan Mcdonald, Aaron Craven and Anna Van Hooft.
5:00 PM
Dream Logic
The
Fringe
division tries to decode dreams after going to Seattle to investigate a man's frightening visions that caused him to attack his boss; Broyles (
Lance Reddick
) has a meeting with Nina Sharp (
Blair Brown
).
Guest stars include Kevin Corrigan, Ravi Kapoor, Travis Schuldt, Emy Aneke, Stephen Dimopoulos, Steven Garr, Emily Holmes, Jovanna Huguet, Jarrett Knowles, Drew Nelson and Alex Zahara.
6:00 PM
Earthling
When the Division probes bizarre cases of people turning into ash, the investigation also reveals clues about Broyles' (
Lance Reddick
) past. Directed by Emmy Award winner
Jon Cassar
("
24
").
Guest stars include Ravil Isyanov, JR Bourne, Gerard Plunkett, Blaine Anderson, Michelle Harrison, Karen Holness, Linda Ko, Yaroslav Poverlo, Chris Shields, Veena Sood and Joe Towne.