Source:
Syfy

PRIMEVAL: NEW WORLD - SYFY VIDEO: 'IT'S WHOLE NEW WORLD' PROMO - NEW EPISODE AIRS SATURDAY, JUNE 15, 2013 AT 10/9C
Catch a sneak peek at what's happening this season on Primeval: New World. Saturdays 9/8c
Primeval: New World cast includes Eureka's Niall Matter, Sara Canning, Danny Rahim, Crystal Lowe, Miranda Frigon and Geoff Gustafson.
A team of animal experts and scientists do battle with prehistoric creatures set loose in modern-day Vancouver through time-space anomalies in this sci-fi series spawned from the British series '
Primeval
.'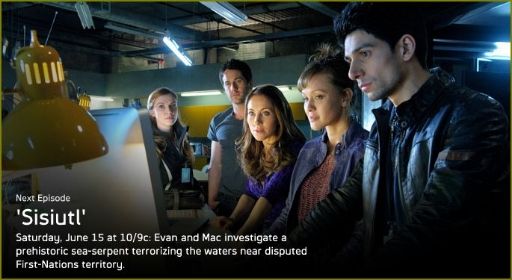 CLICK HERE TO VIEW THE EPISODE TRAILER FOR 'SISIUTL,' AIRING JUNE 15, 2013.