Source:
SciFi and TV Talk
[follow link for complete interview]
SCIFI AND TV TALK: The Best is Yet to Come: Interview with Defiance's Tony Curran
by
Steve Eramo
06/22/2013
One story element in most, not all, Sci-Fi TV shows is that of an extraterrestrial presence. That is certainly true of the new hit
Syfy
series
Defiance
, and in more ways than one. Although its aliens are collectively known as Votans, that group is made up of seven very different species, including the Castithans. Theirs is a pale-skinned race that highly values physical appearance as well as social status, where females are subservient to males, or so it sometimes appears, and sex is used as a means to an end.
Veteran stage and screen actor
Tony Curran
plays Datak Tarr, the most influential Castithan living in the
Defiance
settlement. He is a family man as well as businessman and a sore loser who does not take kindly to being crossed or looked down upon, especially by humans. Being such a rich and layered character, it is no surprise that the casting process for the Datak role was equally complex.
"
I initially auditioned for Scott Stewart, who directed the Defiance pilot, and [series co-creator/executive producer] Kevin Murphy
," says
Curran
. "
When I walked into the room, Grant Bowler [who plays Defiance's chief lawkeeper Joshua Nolan], was also there. Everything seemed to go well, and then I received a callback. From there, it was a matter of trying to find the right man and the right woman for not one but two roles, because the chemistry between Datak and his wife Stahma had to be right for them.
"
So I would go back in the audition room with a number of actresses and we'd play out quite a few scenes. Obviously there was more than one Datak there and more than one Stahma, and they [the producers] were just looking to find out who suited each other and was there a sparkle between the two actors. They really took their time and put the actors through the 'wringer' in some cases...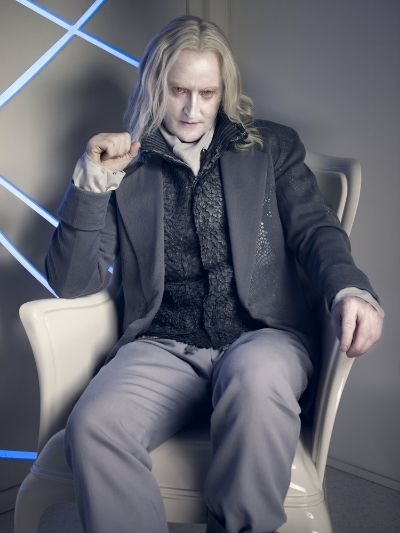 ... "
It was late on in the casting process when this dark-haired woman, Jaime Murray, walked into the audition room and sat down on my knee to do this scene. Now, Jaime is such a professional and so calm and devious as Stahma, but as I laid my head on her chest to do the scene, her heart was beating like a jackhammer. The two of us always sort of affectionately joke about that, because when you audition you get slightly nervous. After all, you don't really know, in this instance, the person who's sitting on your lap, and I don't know whether or not Jaime was a bit nervous, but maybe it was because she was sitting on this Scotsman's knee
," jokes the actor.
"
Jaime and I did some scenes together, and after, I think, four or five times, they eventually made me an offer. It might have been three weeks or even a month from the beginning right through to my booking the job. So it was a rather drawn out process, but it was also quite good to get the nod in the end that the job was mine...
"
Defiance cast includes Tony Curran, Jaime Murray, Julie Benz, Mia Kirshner, Grant Bowler, Stephanie Leonidas, Graham Greene, Dewshane Williams, Jesse Rath, Justin Rain and Nicole Muñoz.
NEW
Defiance
episodes air Monday at 9/8C on
Syfy
.
CLICK HERE TO VIEW THE EPISODE TRAILER FOR 'THE BRIDE WORE BLACK,' AIRING JUNE 24, 2013.