Source:
TV Guide
[follow link for complete column]

TV GUIDE: Weekend TV Playlist: Falling Skies, Thrones Finale, Tonys
Jun 7, 2013
by
Matt Roush
...
THE WEEKEND GUIDE
: A new season of
Syfy's
Continuum
(moving to Fridays at 10/9c) opens with time-tripping cop Kiera sorting out the aftermath of an assassination while trying to reconnect with boy genius Alec, who's still unnerved by receiving a message from himself in Rachel's future timeline. Got that?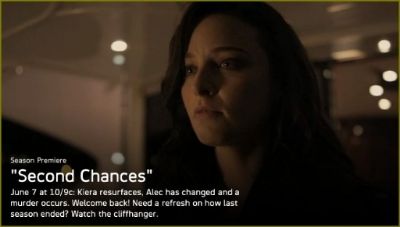 CLICK HERE TO VIEW A VIDEO SNEAK PEEK OF CONTINUUM'S 'SECOND CHANCES'