Source:
Syfy
You Tube channel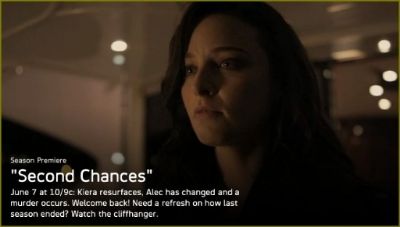 CONTINUUM - SYFY VIDEO FEATURETTE: SEASON TWO PREMIERES FRIDAY, JUNE 7, 2013 AT 10/9C
Continuum - Season 2 | Premieres TONIGHT June 7th at 10/9c
In
Continuum's
second season premiere episode, '
Second Chances
,' Kiera resurfaces after the Mayor is killed in a brazen assassination. She reunites with Carlos to solve the murder and also tries to reconnect with Alec, who has changed since reading the message from his future self.
Kiera (
Rachel Nichols
) reunites with Carlos (
Victor Webster
) to solve the murder of the mayor in the second-season opener, which also finds her trying to reconnect with Alec (
Erik Knudsen
), but he's a changed man since reading the message from his future self.
Continuum cast includes Erik Knudsen, Rachel Nichols, Victor Webster, Stephen Lobo, Stargate Universe's Jennifer Spence; Stargate SG-1's Tony Amendola and Lexa Doig; Richard Harmon, Omari Newton, Brian Markinson and Roger R. Cross.
Guest stars include John Cassini, Tahmoh Penikett, William B. Davis, Nicholas Lea, John Reardon, Sean Michael Kyer, Janet Kidder, Jesse Reid, Karen Kruper, Michasha Armstrong and Ian Tracey.