Source:
Axe Giant
and
Syfy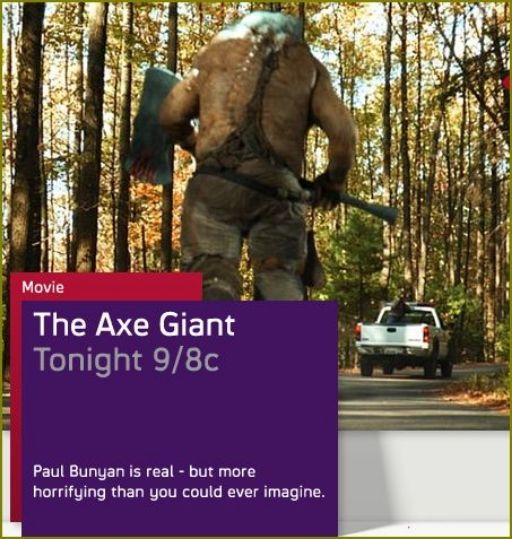 AXE GIANT - VIDEO: MOVIE TRAILER - PREMIERES THURSDAY, JUNE 13, 2013 AT 9/8C ON SYFY
A dark, contemporary take on the tall tale of Paul Bunyan. Kids at a first-offenders' boot camp discover the legend of lumberjack Paul Bunyan is real, but is much more horrifying than they could have imagined. They incur the wrath of the 15-foot monstrous giant, who was banished from town 100 years ago and thought dead. The kids must team up with the local sheriff to stop Bunyan's new rampage of terror.
Cast includes Joe Estevez, Dan Haggerty, Thomas Downey, Amber Connor, Tim Lovelace, Jesse Kove, Kristina Kopf, Jill Evyn, Clifton Williams and Victoria Ramos.