Source: Syfy
schedulebot
[
NOTE: Syfy schedule subject to change(s)
]

ADVENTURE MOVIE MARATHON - SYFY: SCHEDULE SATURDAY, JUNE 22, 2013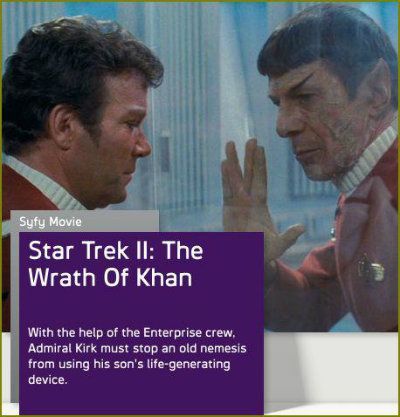 09:00 AM
Star Trek II: The Wrath Of Khan
Star Trek (original series movies) cast include William Shatner, Leonard Nimoy, DeForest Kelley, James Doohan, George Takei, Walter Koenig and Nichelle Nichols.
Kirk (
William Shatner
), Spock (
Leonard Nimoy
) and the
Enterprise
crew battle an old foe (
Ricardo Montalban
) who blames Kirk for the death of his wife.
Guest cast includes Bibi Besch, Merritt Butrick, Paul Winfield, Kirstie Alley, Ricardo Montalban and Judson Scott.
11:30 AM
Casino Royale
Daniel Craig
is aces in his first go-round as British secret agent James Bond, who tries his hand at outwitting a terrorist banker (
Mads Mikkelsen
). Ripping spy jinks with
Eva Green
as the Bond girl and
Judi Dench
as M.
Cast includes Daniel Craig, Eva Green, Mads Mikkelsen, Judi Dench, Jeffrey Wright, Giancarlo Giannini, Caterina Murino and Simon Abkarian.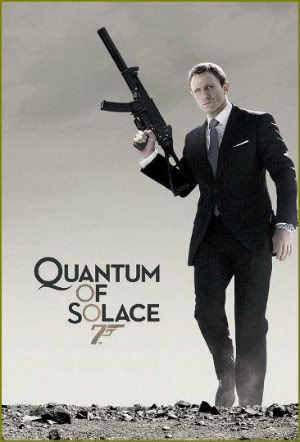 02:30 PM
Quantum Of Solace
James Bond (
Daniel Craig
) seeks to avenge betrayal by a loved one while trying to stop a renegade environmentalist from monopolizing the "world's most precious [natural] resource."
Judi Dench
returns as M, and
Jeffrey Wright
is again on board as
CIA
operative Felix Leiter.
Cast includes Daniel Craig, Olga Kurylenko, Mathieu Amalric, Judi Dench, Giancarlo Giannini, Gemma Arterton, Jeffrey Wright, David Harbour, Jesper Christensen, Anatole Taubman, Rory Kinnear, Tim Pigott-Smith, and briefly,
Castle's
Stana Katic.
05:00 PM
Shutter Island
U.S. Marshal Teddy Daniels (
Leonardo DiCaprio
) investigates the disappearance of a killer at a mental asylum located on an island currently in the path of a major hurricane. As Teddy's investigation continues, he suspects that the asylum's doctors are performing dangerous experiments and he begins to fear that there might be a supernatural presence on the island. Directed by
Martin Scorsese
.
Cast includes Leonardo DiCaprio, Mark Ruffalo, Ben Kingsley, Max von Sydow, Michelle Williams, Emily Mortimer, Patricia Clarkson, Jackie Earle Haley and Ted Levine.
[Time out for
Sinbad
and
Primeval: New World
]
11:00 PM
Shutter Island
02:00 AM
Casino Royale