Source:
SciFi and TV Talk
[follow link for complete interview]
SCIFI AND TV TALK: Coming of Age: Interview with Defiance's Nicole Munoz
05/14/2013
by
Steve Eramo
Although she is not quite yet 20 years old,
Nicole Munoz
is already a seasoned acting pro. Since 2004, the Vancouver native has amassed a diverse and impressive list of feature film and TV roles, but long before that, the talented young woman was already performing in front of the camera. Between the ages of four and eight,
Munoz
appeared in over 50 TV commercials, and back then, she thought that that was business as usual for everyone her age.
"
I remember going to elementary school and thinking that every other child was an actor. I missed a lot of school because of acting, and I'd be like, 'Why are you guys in school today? Don't you have a shoot?' I thought it was normal, but clearly it wasn't
," says
Munoz
with a laugh.
"
I carried on acting all throughout high school and loved it. I was always taught to pursue my dreams, so when I turned 16 that's when I really decided that acting was what I wanted to do for a living. I'm very serious about it and, fortunately, it's paying off. Like most people, though, I dreamt of doing other things while growing up. At one point I wanted to be a teacher, and then an interior designer, but If I wasn't an actor, I think I'd study history and become a history teacher
."
Nowadays, the actress is experiencing life in a brave new world as Christie McCawley in the new hit
Syfy
TV series
Defiance
. Her character is among the survivors of a war between humankind and a group of seven alien species known collectively as Votans. These extraterrestrials originally came to Earth looking for a new world to settle after their star system was destroyed. Their desire for more and more living space eventually led to a conflict that culminated in the terraforming of Earth. Christie and her family now live in a settlement called Defiance (which was built on the remains of St. Louis, Missouri) alongside other humans as well as Votans...
Defiance
airs Monday at 9/8C on
Syfy
.
CLICK HERE TO VIEW THE EPISODE TRAILER FOR 'BROTHERS IN ARMS,' AIRING MAY 20, 2013.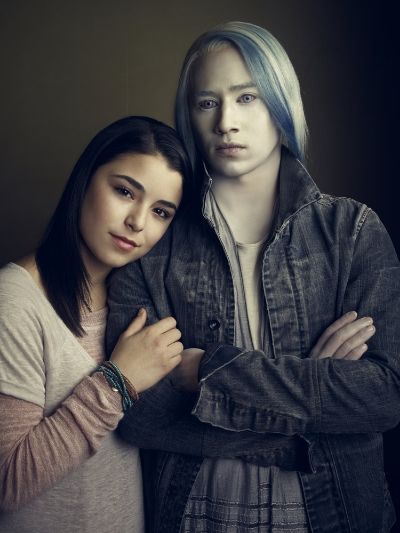 Nicole Munoz and Jesse Rath