Source:
Syfy
You Tube channel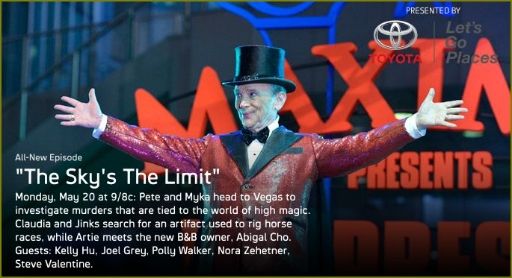 WAREHOUSE 13 - SYFY VIDEO: 'THE SKY'S THE LIMIT' SNEAK PEEK - AIRS MONDAY, MAY 20, 2013 AT 10/9C
Pete and Myka (
Eddie McClintock
,
Joanne Kelly
) head to Vegas to investigate murders that are tied to the world of high magic. Meanwhile, Claudia and Jinks (
Allison Scagliotti
,
Aaron Ashmore
) search for an artifact used to rig horse races, while Artie (
Saul Rubinek
) meets the new B&B owner, Abigal Cho (
Kelly Hu
).
Guest stars include Kelly Hu, Joel Grey, Polly Walker, Nora Zehetner, Steve Valentine and Gregg Lowe.