Source:
Syfy
You Tube channel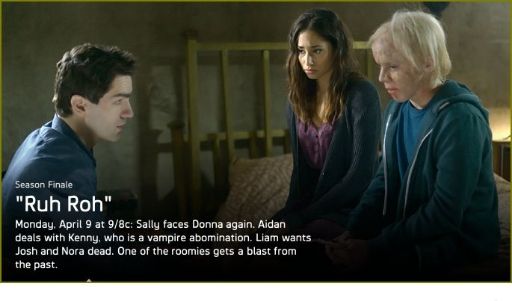 BEING HUMAN - SYFY VIDEO: 'RUH ROH' SNEAK PEEK - SEASON THREE FINALE! - AIRS MONDAY, APRIL 8, 2013 AT 9/8C
Sally (
Meaghan Rath
) faces Donna (
Amy Aquino
) again while Aidan (
Sam Witwer
) deals with Kenny (
Connor Price
), who recently turned. Liam (
Xander Berkeley
) pops up again on Josh (
Sam Huntington
) and Nora (
Kristen Hager
). A blast from the past suprises everyone.
Guest stars include Amy Aquino, Xander Berkley, Marie-Eve Beckers, Kyle Harrison Breitkopf, Bobby Campo, Katharine Isabelle, Connor Price, Jonathan Rooney and Bruno Verdoni.