Source:
Syfy
You Tube channel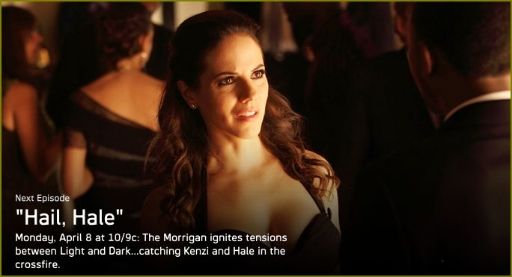 LOST GIRL - SYFY VIDEO: 'HAIL, HALE' EPISODE TRAILER - AIRS MONDAY, APRIL 8, 2013 AT 10/9C
The Morrigan ignites tensions between Light and Dark...catching Kenzi and Hale in the crossfire on Lost Girl, Monday at 10/9c.
A daring attack on the Dal Riata bar leaves a life hanging in the balance. Meanwhile, Kenzi and Hale (
Ksenia Solo
,
K.C. Collins
) are caught in the crossfire when the Morrigan (
Emmanuelle Vaugier
) attempts to ignite tensions between Light Fae and Dark Fae.
Guest stars include Emmanuelle Vaugier, Rob Archer, Seth Cooperman and Dimitri Pavlakos.