Source: Syfy
schedulebot
[
NOTE: Syfy schedule subject to change(s)
]

WEREWOLVES, VAMPIRES AND PIRATES MOVIE MARATHON - SYFY: SCHEDULE SUNDAY, APRIL 7, 2013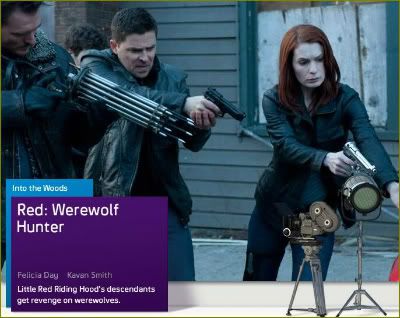 09:30 AM
Red: Werewolf Hunter
Red (
Felicia Day
), a descendant of "
Little Red Riding Hood
," brings her fiancé home to meet the family, where he learns that they hunt werewolves. When a werewolf bites her betrothed, it's up to Red to save his life.
Cast includes Felicia Day, Stephen McHattie, Greg Bryk, Rosemary Dunsmore, David Reale and
Eureka's
Kavan Smith.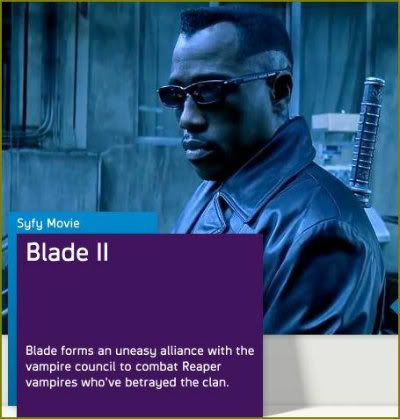 11:30 AM
Blade II
A vampire slayer (
Wesley Snipes
) teams up with the undead to take down a band of mutant bloodsuckers.
Cast includes Wesley Snipes, Kris Kristofferson, Ron Perlman, Leonor Varela,
The Walking Dead's
Norman Reedus, Luke Goss and
Defiance's
Tony Curran.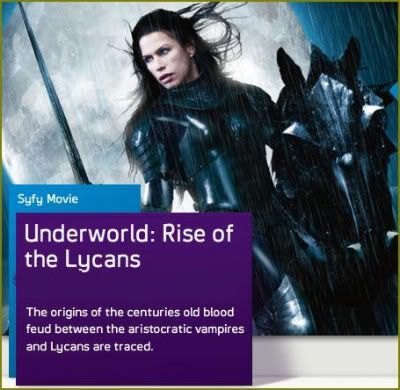 02:00 PM
Underworld: Rise Of The Lycans
A prequel to the first two Underworld films, this fantasy explains the origins of the feud between the Vampires and the Lycans. Aided by his secret love, Sonja (
Rhona Mitra
), courageous Lucian (
Michael Sheen
) leads the Lycans in battle against brutal Vampire king Viktor (
Bill Nighy
). Determined to break the king's enslavement of his people, Lucian faces off against the Death Dealer army in a bid for Lycan independence.
Cast includes Michael Sheen, Bill Nighy, Rhona Mitra, Steven Mackintosh, Kevin Grevioux, David Aston, Geraldine Brophy and Leighton Cardno.
04:00 PM
Underworld: Evolution
Gory sequel finds the bloodsucking heroine (
Kate Beckinsale
) tracing the origins of the ancient feud between the tribes of vampires and werewolves.
Cast includes Kate Beckinsale,
Defiance's
Tony Curran, Derek Jacobi, Bill Nighy, Michael Sheen and Sophia Myles.
06:00 PM
Pirates Of The Caribbean: Dead Man's Chest
Overstuffed sequel in which crafty pirate Jack Sparrow (
Johnny Depp
) schemes to get out of a debt that would have him hand over his soul to the ghostly Davy Jones.
Cast includes Johnny Depp, Orlando Bloom, Keira Knightley, Jack Davenport, Bill Nighy, Jonathan Pryce, Lee Arenberg and Stellan Skarsgård.
09:00 PM
G. I. Joe: The Rise Of Cobra
An elite military unit battles the corrupt arms dealer Destro (
Christopher Eccleston
) in order to prevent the nefarious Cobra organization from destroying the world
Cast includes Adewale Akinnuoye-Agbaje,
Doctor Who's
Christopher Eccleston, Grégory Fitoussi, Joseph Gordon-Levitt, Leo Howard, Karolina Kurkova, Byung-hun Lee, Sienna Miller, David Murray,
Continuum's
Rachel Nichols, Kevin J. O'Connor, Gerald Okamura, Ray Park, Jonathan Pryce,
Vegas'
Dennis Quaid, Saïd Taghmaoui, Channing Tatum and Arnold Vosloo.
11:30 PM
Pirates Of The Caribbean: Dead Man's Chest
02:30 AM
Wes Craven Presents: Dracula II: Ascension
The Prince of Darkness wreaks havoc when his charred body is regenerated by a group of researchers. A sequel to "
Dracula 2000
."
Cast includes Jennifer Kroll, Jason Scott Lee, Roy Scheider, Craig Sheffer, Diane Neal, Khary Payton, Brande Roderick, Jason London, Chris Hunter, John Light and Stephen Billington.