Source: Cloo TV
schedulebot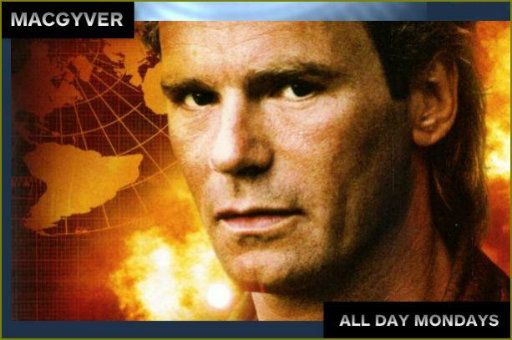 MACGYVER - CLOO TV: Minithon SCHEDULE MONDAY, APRIL 1, 2013
MacGyver cast includes Richard Dean Anderson (as Angus MacGyver) and Dana Elcar as Peter Thornton.
11:00 PM
FRATERNITY OF THIEVES
A technology system could be compromised by espionage, and one of the culprits is someone within the Foundation.
Guest stars include James Karen, Hank Stratton, Robert Metcalfe, Don Galloway, Bill Murdoch, David Ley, David Bloom, John Payne and Vladimir Kulich.
Tuesday, April 2 2013
12:00 AM
THE BATTLE OF TOMMY GIORDANO
After
MacGyver's
friend wins custody of her son, her ex-husband seeks the help of his uncle---the head of a crime family.
Guest stars include Penny Peyser, Tony Dakota, Peter Yunker, Peter Blackwood, Joseph Wiseman, Howard Storey, Charles Andre, James Crescenzo, Mike Mitchell and Serge Houde.
01:00 AM
THE CHALLENGE
* Excellent Episode! *
A youth from a club run by
MacGyver's
friend is framed for a theft by a racist who'll stop at nothing to shut the club down.
Guest stars include Michael MacRae, Cuba Gooding Jr., Roxanne Reese, Michael D. Roberts, R. Nelson Brown, Charles Kristian, Rob Roy, Charles Payne, Sam Sarkar, Alec Burden, Marlane O'Brien, Paul Bittante and Suleka Mathew.
02:00 AM
RUNNERS
MacGyver
befriends a runaway, and as he helps her cope, he recalls a tragic memory of his own.
Guest stars include Holly Fields, Gerald Anthony, Roxanne Reese, Jeff Pomerantz, Evon Murphy, Ken Camroux, Lossen Chambers, Byron Chief-Moon and Suleka Mathew.
03:00 AM
FRATERNITY OF THIEVES
04:00 AM
THE BATTLE OF TOMMY GIORDANO
05:00 AM
THE CHALLENGE