Source:
You Tube
and
Chiller TV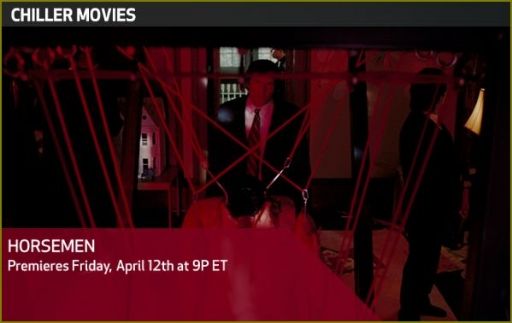 HORSEMEN - VIDEO: MOVIE TRAILER - PREMIERES FRIDAY, APRIL 12, 2013 AT 9/8C ON CHILLER TV
Four Horsemen. Four unrelated victims. Four painful secrets. Come and See.
At home, hardened police detective Aidan Breslin, (
Dennis Quaid
) has grown increasingly distant from his two young sons, Alex (
Lou Taylor Pucci
) and Sean (
Liam James
), since the death of his wife. At work, he finds himself thrust into an investigation of perverse serial killings rooted in the Biblical prophecy of the Four Horsemen of the Apocalypse. As Breslin grapples with each new revelation in the case, he slowly discovers a shocking connection between himself and the four suspects.
Cast includes
Vegas'
Dennis Quaid, Ziyi Zhang, Lou Taylor Pucci, Clifton Collins Jr., Barry Shabaka Henley, Patrick Fugit,
Haven's
Eric Balfour, Paul Dooley, Liam James, Chelcie Ross, Manfred Maretzki, Arne MacPherson, David Dastmalchian, Peter Stormare and Deborah Odell.