Source:
Syfy
You Tube channel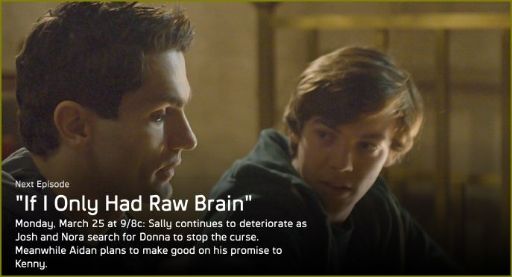 BEING HUMAN - SYFY VIDEO: SNEAK PEEK - FIRST FOUR MINUTES - 'IF ONLY I HAD A RAW BRAIN' - AIRS MONDAY, MARCH 25, 2013 AT 9/8C
Sally continues to deteriorate as Josh and Nora search for Donna the witch. Being Human Monday at 9/8c.
Josh and Nora (
Sammy Huntington
,
Kristen Hager
) continue to search for Donna (
Amy Aquino
) while Sally's (
Meaghan Rath
) condition continues to deteriorate, and Aidan (
Sam Witwer
) breaks Kenny (
Connor Price
) out of the hospital so that he can spend his final days as a human enjoying life away from doctors and drugs.
Guest stars include Connor Price, Amy Aquino, Bobby Campo, Ellen David, Jessica Malka and Bruno Verdoni.