Source:
SciFi and TV Talk
[follow link for complete column]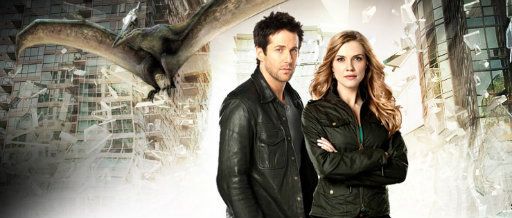 SCIFI AND TV TALK: Primeval: New World's Danny Rahim - Sense of Security
by
Steve Eramo
11/20/2012
Actor
Danny Rahim
is all smiles as he walks into the Vancouver publicity office of
Primeval: New World
(a spin-off of the hit UK Sci-Fi series
Primeval
). Having gone through hair and make-up, he is kitted out in his character's familiar togs and ready for work. His character of security specialist/firearms expert Mac Rendell is among a handful of brave individuals responsible for protecting the city and its population from unwanted intrusions by creatures from Earth's past (and in some cases future). It is a job fraught with risk and danger, but one that Mac has eagerly taken on. For
Rahim
, booking his role on
New World
was a long process and a challenging one, but the actor could not have been more thrilled with the outcome.
"
My original audition was in the UK
," says
Rahim
. "
All the actors who were reading for the role were sent two scenes ahead of time to learn. So I went in, did both scenes and it went great. Everyone there was extremely helpful and just open to letting you explore the character and try different ways of doing so.
"
"
When I got to the second audition, the atmosphere felt tense and the actors who were already there looked really panicked. I thought, 'OK, something's up. What's going on?' It turned out that an extra [audition] scene had been given to everyone. The thing is, I have dyslexia, so it takes me a little longer to learn. I have special filters and other things that I do at home to make it easier for me...
"
Primeval: New World
premieres on Syfy in 2013, and airs in Canada on the Space Channel, on Monday at 10PM.
Primeval: New World cast includes Eureka's Niall Matter, Sara Canning, Danny Rahim, Crystal Lowe, Miranda Frigon and Geoff Gustafson.