Source: Syfy
schedulebot
[
NOTE: Syfy schedule subject to change(s)
]
DRAGON MOVIE MARATHON - SYFY: SCHEDULE THURSDAY, NOVEMBER 29, 2012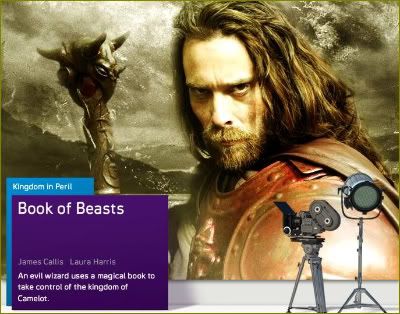 08:00 AM
The Book Of Beasts
A band of adventurers led by King Arthur's daughter recruit the legendary wizard Merlin (
James Callis
) to save Camelot from a plague of evil. Arkadian has the Book of Beasts, and he's about to unleash its malevolent powers on Camelot. Now, in order to defeat Arkadian and save the kingdom, the brave warriors and the reclusive wizard do battle with terrifying beasts while traveling though magical lands.
Cast includes James Callis, Laura Harris, Jesse Moss, Patrick Sabongui, Donald Adams and Jim Thorburn.
10:00 AM
Merlin And The War Of The Dragons
During Arthurian times, a fledgling wizard (
Simon Lloyd Roberts
) does battle with an evil sorcerer and his army of flying, fire-breathing beasts.
Cast includes Simon Lloyd-Roberts, Joseph Stacey, Dylan Jones, Hefin Wyn, Jürgen Prochnow, William Huw, Gary Twomey and Carys Eleri.
12:00 PM
Beyond Sherwood Forest
Robin Hood (
Robin Dunne
) must find a cure for a woman cursed to turn into a murderous beast during the daytime, as well as keep Maid Marian (
Erica Durance
) safe from harm.
Cast includes
Sanctuary's
Robin Dunne and Robert Lawrenson,
Saving Hope's
Erica Durance, Julian Sands, Katharine Isabelle, Mark Gibbon, Cainan Wiebe, Richard de Klerk, Bill Dow, Brent Stait, John Novak, David Richmond-Peck, Paul Lazenby and David Palffy.
02:00 PM
Dragonquest
When an ancient warlord summons a mythological beast, a young hero must complete a series of quests to awaken the dragon that will defeat the monster.
Cast includes Marc Singer, Brian Thompson, Jason Connery, Daniel Bonjour and Jennifer Dorogi.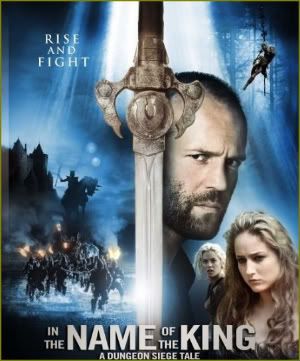 04:00 PM
In The Name Of The King: A Dungeon Siege Tale
Inconsistent accents, anachronistic performances and low-rent special effects abound in this medieval fantasy, which pits action star
Jason Statham
against armor-clad monster warriors, a wicked wizard and scantily-clad, man-hating wood sprites.
Cast includes Jason Statham, Leelee Sobieski, John Rhys-Davies, Ron Perlman, Claire Forlani, Kristanna Loken, Matthew Lillard, Mike Dopud, Ray Liotta and Burt Reynolds.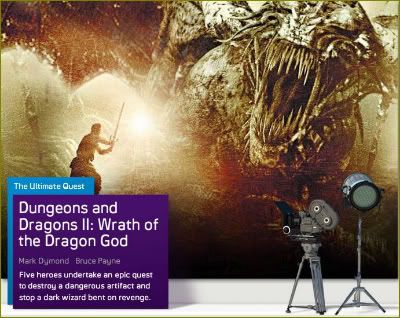 06:30 PM
Dungeons & Dragons: The Wrath Of The Dragon God
Five heroic individuals attempt to halt the rise to power of a dragon god and an evil sorcerer.
Cast includes Bruce Payne, Mark Dymond, Clemency Burton-Hill, Ellie Chidzey, Tim Stern, Steven Elder and Lucy Gaskell.
09:00 PM
Dungeons & Dragons: The Book Of Vile Darkness
From ancient legends, comes an all-new adventure. Syfy Original Movie Dungeons & Dragons premieres Saturday Nov 24 at 9/8c.
A noble warrior must battle dragons and demons while upholding his moral code as he covertly joins a group of villains to rescue his kidnapped father from Shathrax, the Mind Flayer, who threatens to destroy the world.
Cast includes Meagan Good, Eleanor Gecks, Anthony Howell, Jack Derges, Charlotte Hunter, Lex Daniel, Habib Nasib Nader, Barry Aird, John C. Klein and Ryan H. Jackson.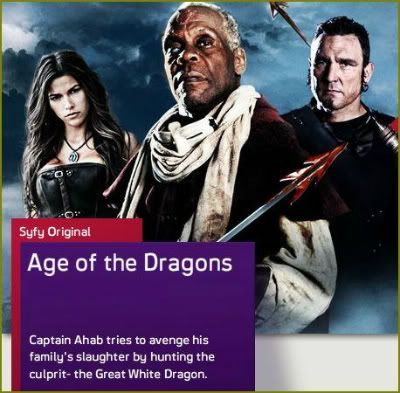 11:00 PM
Age Of The Dragons
Danny Glover
stars as an obsessed Ahab who seeks revenge on the fire-breathing dragon that killed his family and left him horribly scarred in this re-imagining of the classic novel "
Moby Dick
."
Cast includes Danny Glover, Vinnie Jones, Corey Sevier, Sofia Pernas, Larry Bagby, Kepa Kruse and David Morgan.
01:00 AM
Beyond Sherwood Forest
03:00 AM
Dragonquest