Source:
MSN TV
[follow link for complete column]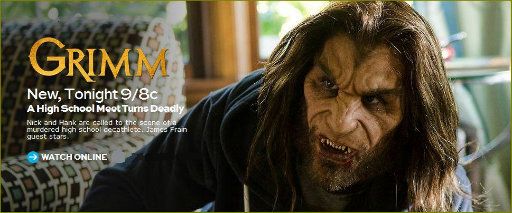 MSN TV: TONIGHT'S PICKS FRIDAY, OCTOBER 19, 2012
...
Grimm
9:00 PM, NBC
Sports aren't the only extracurriculars that can be hazardous to kids' safety, as Nick and Hank (
David Giuntoli, Russell Hornsby
) discover when they investigate the murder of a high-schooler who was an academic decathlete. Renard (
Sasha Roiz
) deals with some unwanted attention and the news that an old accomplice has reconnected with his relatives in Europe. Monroe (
Silas Weir Mitchell
) gets a surprise at the spice shop in the new episode "
The Other Side
."
CLICK HERE TO VIEW THE EPISODE TRAILER FOR GRIMM'S 'THE OTHER SIDE'