Source:
Syfy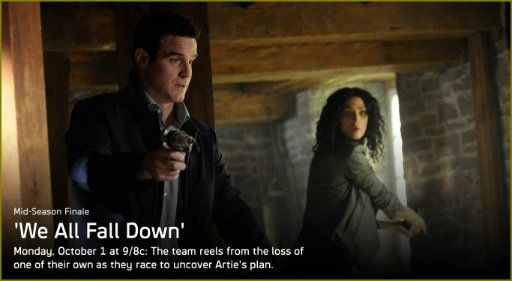 WAREHOUSE 13 - SYFY VIDEO: 'WE ALL FALL DOWN' EPISODE TRAILER - AIRS MONDAY, OCTOBER 1, 2012 AT 9/8C - FALL FINALE!
The team reals from the loss of one of their own as they race to uncover Artie's (Saul Rubinek) plan. Warehouse 13 Monday at 9/8c.
The team find themselves battling one of their own when Artie's obsession with the Astrolabe reaches dangerous proportions.
Guest stars include
Star Trek: Voyager's
Jeri Ryan.
[
NOTE: The second half of Warehouse 13's fourth season (10 episodes) will air in April 2013.
]
Source:
NBCUMV
Syfy Press Release [follow link for complete press release]
September 24, 2012 – The Warehouse's battle against an unspeakable power that has steadily consumed Artie Nielsen (
Saul Rubinek
) comes to a devastating conclusion in the
Warehouse 13
mid-season four finale, airing on Syfy Monday, October 1 at 9PM (ET/PT).
Explains
Jack Kenny
, Executive Producer,
Warehouse 13
: "
In a surprising and thrilling culmination of the evil that Artie created when he used Magellan's Astrolabe in the season premiere, Eddie, Myka, Claudia and Steve chase Artie across the world to prevent him from unleashing a far worse menace on humanity
."
Warehouse 13
returns in April 2013 with 10 all-new episodes of season four.