Source: Syfy
schedulebot
[
NOTE: Syfy schedule subject to change(s)
]
HORROR MOVIE MARATHON - 31 DAYS OF HALLOWEEN - SYFY: SCHEDULE SATURDAY OCTOBER 6, 2012
09:00 AM
Open Graves
A group of American students in Spain stumbles across a sinister board game, in which the loser eventually suffers a terrible death.
Cast includes Mike Vogel, Eliza Dushku, Ethan Rains, Naike Rivelli and Lindsay Caroline Robba.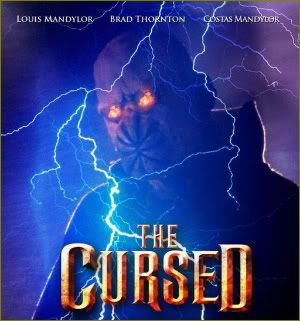 11:00 AM
The Cursed
While conducting research for a book, a writer awakens a malevolent creature in a Tennessee town with a dark past. Directed by Joel Bender.
Cast includes Louis Mandylor, Brad Thornton, Costas Mandylor, Francesca Cecil, James Marshall and Tom Wright.
01:00 PM
Boogeyman
A supernatural creature goes on a killing spree and searches for a human counterpart after its keeper dies.
Cast includes
Warehouse 13's
Eddie McClintock, Emma Samms, Amy Bailey, Gabriel Steele, Danny Horn and Christian Hammerdorfer.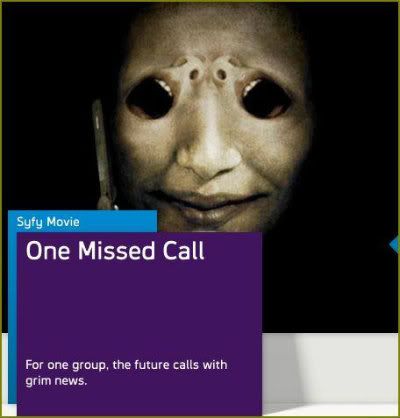 03:00 PM
One Missed Call
Victims receive cell-phone messages containing a recording of themselves in their dying moments---and three days later, they die horrible deaths.
Cast includes Shannyn Sossamon, Edward Burns, Ana Claudia Talancón, Ray Wise, Azura Skye, Johnny Lewis, Jason Beghe, Margaret Cho and Meagan Good.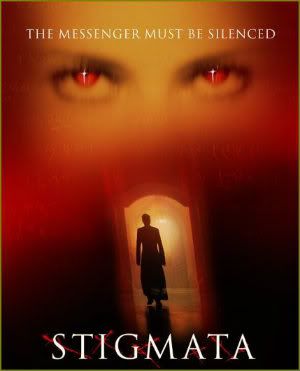 05:00 PM
Stigmata
A Vatican priest (
Gabriel Byrne
) is sent to Pittsburgh to investigate a not-so-religious hairstylist (
Patricia Arquette
) who exhibits signs of the stigmata, marks resembling the wounds that were inflicted on Jesus at his Crucifixion.
Cast includes Patricia Arquette, Gabriel Byrne, Jonathan Pryce, Nia Long, Thomas Kopache, Rade Serbedzija, Enrico Colantoni, Dick Latessa, Portia de Rossi and Patrick Muldoon.
07:00 PM
Queen Of The Damned
In this thriller based on
Anne Rice's
novel, the vampire Lestat (
Stuart Townsend
) is a rock star conspiring with the Queen of the Vampires (
Aaliyah
) for world domination.
Cast includes Aaliyah, Stuart Townsend, Marguerite Moreau, Vincent Perez, Paul McGann, Lena Olin, Christian Manon,
Stargate SG-1's
Claudia Black and Bruce Spence.
09:00 PM
Primal
-
Syfy Premiere!
A group of friends travel below ground to view ancient cave paintings but soon find a horrible sickness gripping one of their own, which leaves them with nothing in their mind but a primal blood lust.
Cast includes Zoe Tuckwell-Smith, Krew Boylan, Lindsay Farris, Rebekah Foord, Damien Freeleagus and Wil Traval.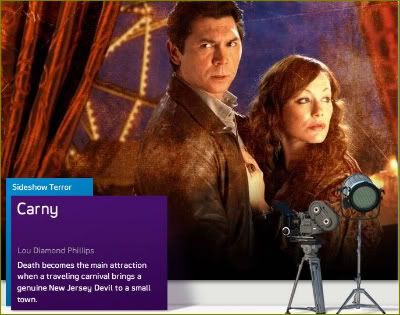 11:00 PM
Carny
A small-town sheriff (
Lou Diamond Phillips
) contends with a creature that escaped from a carnival.
Cast includes
Longmire's
Lou Diamond Phillips, Alan C. Peterson, Vlasta Vrana and Dominic Cuzzocrea.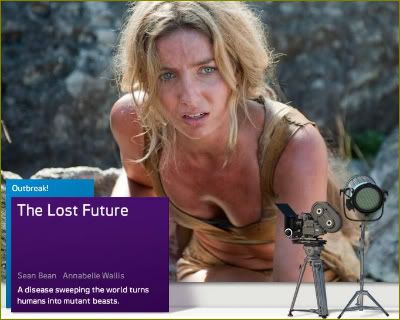 01:00 AM
The Lost Future
Set in a future where jungles have overtaken the remnants of civilization, a tribe struggles to survive amid mutated creatures that carry a deadly disease.
Cast includes
Game of Thrones'
Sean Bean, Corey Sevier, Sam Claflin, Annabelle Wallis, Eleanor Tomlinson, Hannah Tointon and Jonathan Pienaar.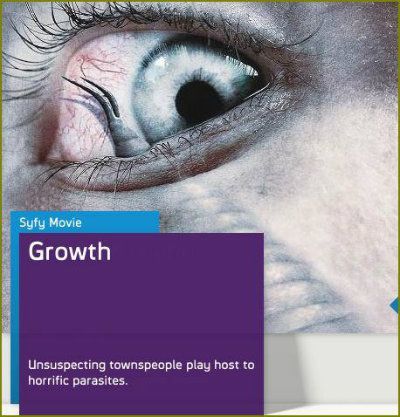 03:00 AM
Growth
In 1989, a breakthrough in advanced parasitic research on Cuttyhunk Island, gave scientists a jump in human evolution. Initial tests proved promising as subjects were experiencing heightened physical and mental strength and awareness. But, something in the experiment went horribly wrong and the island mysteriously lost three quarters of its population. Jamie Akerman (
Mircea Monroe
) fled the outbreak, which took her mothers life, twenty years ago. She now returns with her boyfriend and step brother, to sell the family property. There, they uncover the key to Jamie's disturbing past, and the horrifying secrets long suppressed by the town leader, Larkin (
Richard Riehle
). Now, a new strain of parasite has emerged, and threatens the island once again. Jamie struggles to survive and escape the obsessive pursuit of the local islanders who know that she has inherited more than she could ever have imagined.
Cast includes Mircea Monroe, Christopher Shand, Nora Kirkpatrick, Brian Krause, Richard Riehle, Lou Richards, Ian Patrick Williams, Jill Hoiles, Jessica Dercks and Robert Pike Daniel.