Source: Syfy
schedulebot
[
NOTE: Syfy schedule subject to change(s)
]
SUPERNATURAL MOVIE MARATHON - SYFY: SCHEDULE FRIDAY, SEPTEMBER 7, 2012
08:00 AM
P2
Predictable thriller about a businesswoman (
Rachel Nichols
) who is trapped in an underground parking garage on Christmas Eve and terrorized by a psychopathic security guard (
Wes Bentley
).
Cast includes Wes Bentley, Rachel Nichols, Simon Reynolds, Philip Akin and Miranda Edwards.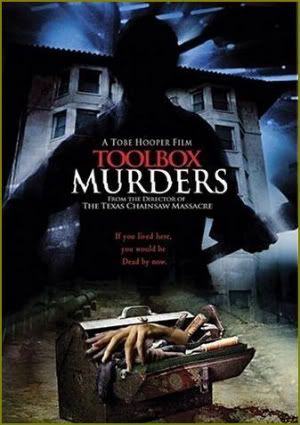 10:00 AM
Toolbox Murders
New to Los Angeles, Nell and Steven Barrow (
Angela Bettis
and
Brent Roam
) rent an apartment in the run-down Lusman Arms building in this gruesome slasher flick from
Tobe Hooper
. Soon, Nell begins to notice that young women in the building are meeting violent deaths. With the help of nice-guy actor "Jazz" Rooker (
Rance Howard
), Nell starts investigating -- and makes some disturbing discoveries.
Cast includes Angela Bettis, Brent Roam, Marco Rodríguez, Rance Howard, Juliet Landau, Adam Gierasch and Greg Travis.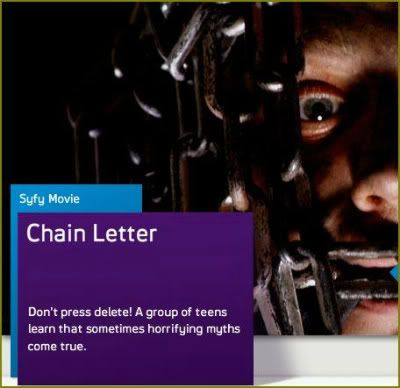 12:00 PM
Chain Letter
Jessie Campbell (
Nikki Reed
) and her friends receive a threatening e-mail claiming they will all die if they fail to keep the message circulating.
Cast includes Madison Bauer, Mark S. Allen, Phil Austin, Nikki Reed, Michael Bailey Smith, Michael J. Pagan, Matt Cohen, Brad Dourif and Keith David.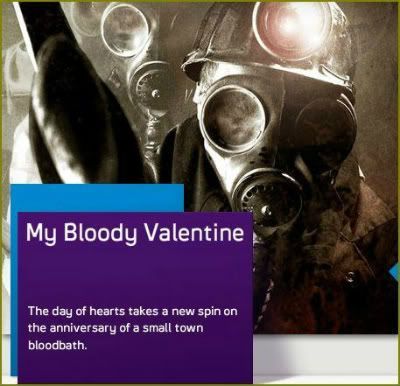 02:00 PM
My Bloody Valentine
Remake of the 1981 slasher classic about a homicidal maniac terrorizing a small mining town on Valentine's Day.
Cast includes
Supernatural's
Jensen Ackles, Jaime King, Kerr Smith, Betsy Rue, Edi Gathegi, Tom Atkins, Kevin Tighe and Megan Boone.
04:00 PM
The Seamstress
An ancient curse returns with a vengeance in this harrowing descent into shear terror!
Cast includes Lance Henriksen, Kailin See, David Kopp, James Kirk, Lara Gilchrist, Kevin McNulty, Aaron Pearl,
Stargate Atlantis'
David Nykl, Andee Frizzell and Jennifer Copping.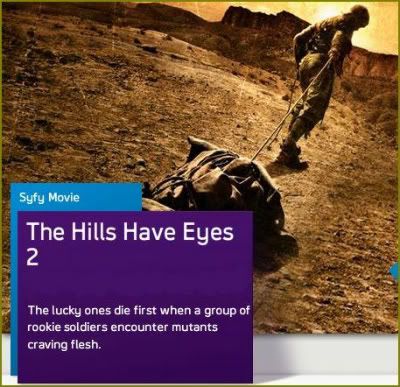 06:00 PM
The Hills Have Eyes 2
A group of National Guard trainees find themselves battling against a vicious group of mutants on their last day of training in the desert.
Cast includes Michael McMillian, Jessica Stroup, Jacob Vargas, Flex Alexander, Lee Thompson Young, Daniella Alonso, Eric Edelstein, Jeff Kober, Jay Acovone and
CSI's
Archie Kao.
[Syfy Friday Programming]
03:00 AM
Primeval
A news team is sent to Burundi to capture and bring home a legendary 25-foot crocodile. Their difficult task turns potentially deadly when a warlord targets them for death.
Cast includes Dominic Purcell, Brooke Langton, Orlando Jones, Jürgen Prochnow, Gideon Emery, Gabriel Malema and Linda Mpondo.