Source: Syfy
schedulebot
[
NOTE: Syfy schedule subject to change(s)
]
SCIFI MOVIE MARATHON - SYFY: SCHEDULE THURSDAY, AUGUST 23, 2012
08:00 AM
Mutant Chronicles
A soldier (
Thomas Jane
) and a monk (
Ron Perlman
) lead a mission to save humanity from undying mutant hordes.
Cast includes
Hung's
Thomas Jane, Ron Perlman, Devon Aoki, Sean Pertwee, Benno Fürmann, John Malkovich, Anna Walton, Tom Wu and Steve Toussaint.

10:30 AM
Red Faction: Origins
A family drama plays out as enemy forces clash over Mars 25 years after the planet was liberated from oppressive Earth forces in this sci-fi action film set in the universe established by the Red Faction video-game franchise.
Cast includes
Stargate Universe's
Brian J. Smith, Robert Patrick, Danielle Nicolet, Kate Vernon, Tamzin Merchant, Devon Graye, Gordon Kennedy and Gareth David-Lloyd.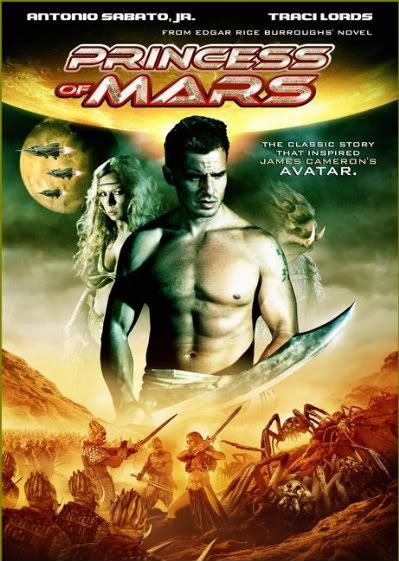 12:30 PM
Princess Of Mars
A U.S. soldier is mysteriously transported to Mars during a war between two alien races in this adaptation of the Edgar Rice Burroughs novel, "A Princess of Mars."
Cast includes Antonio Sabato Jr., Traci Lords, Matt Lasky, Chacko Vadaketh, Mitchell Gordon and Noelle Perris.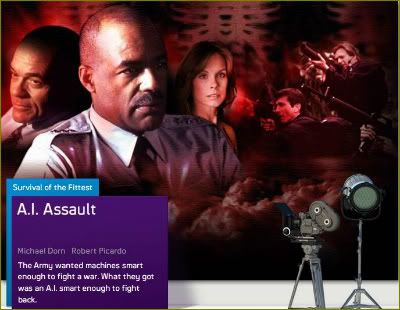 02:30 PM
A.I. Assault
"
Star Trek
" spin-off series veterans
Michael Dorn
and
Robert Picardo
star in this sci-fi action film following Navy SEALs as they hunt highly adaptive, synthetic soldiers on a remote island.
Cast includes Joe Lando, Lisa LoCicero, Joshua Cox, Blake Gibbons, Hudson Leick,
Star Trek: The Next Generation's
Michael Dorn,
Babylon 5's
Bill Mumy, Alexandra Paul,
Star Trek: Voyager
/
Stargate Atlantis
Robert Picardo,
Star Trek: The Original Series'
George Takei and Tim Thomerson.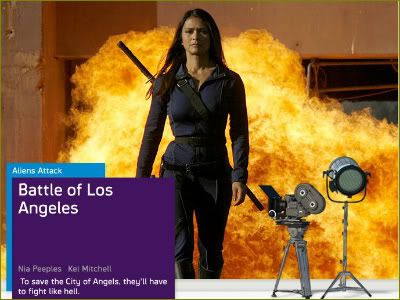 04:30 PM
Battle Of Los Angeles
Alien spacecraft attack Los Angeles in the first wave of an invasion, and humanity's survival depends upon two soldiers who must breach the mother ship and destroy it from within.
Cast includes Nia Peeples, Kel Mitchell, Dylan Vox, Theresa June Tao, Gerald Webb, Edward DeRuiter, Darin Cooper, Robert Pike Daniel and Tim Abell.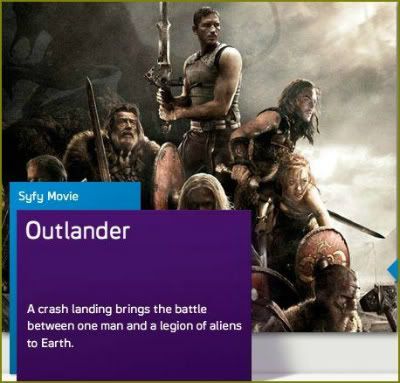 06:30 PM
Outlander
A warrior from space crash-lands into ancient Norway and helps Viking tribes battle a bloodthirsty monster.
Jim Caviezel
stars in this sc-fi adventure fantasy.
Cast includes
Person of Interests'
Jim Caviezel, Sophia Myles, Jack Huston, John Hurt, Cliff Saunders, Patrick Stevenson, Aidan Devine and Ron Perlman.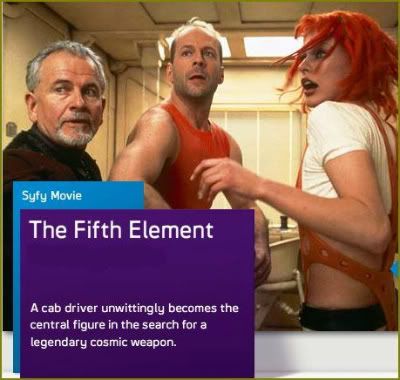 09:00 PM
The Fifth Element
Great special effects, ludicrous script.
Gary Oldman, Milla Jovovich
. Directed by
Luc Besson
("
La Femme Nikita
"), who wrote the story when he was a teen. Besson also invented the unique language spoken by the alien Leeloo. Netted an Oscar nomination for Sound Effects Editing.
Cast includes Bruce Willis, Gary Oldman, Ian Holm, Milla Jovovich, Chris Tucker, Luke Perry, Brion James and Tommy 'Tiny' Lister.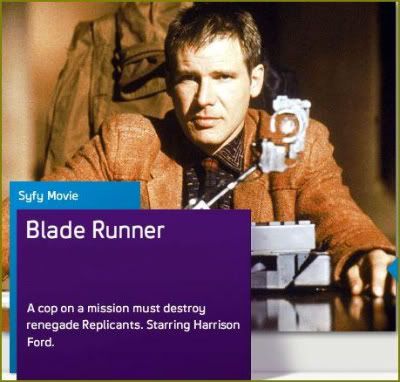 11:30 PM
Blade Runner
Superb special effects propel
Ridley Scott's
thriller about a 21st-century detective (
Harrison Ford
) assigned to destroy rebellious androids.
Cast includes Harrison Ford, Rutger Hauer, Sean Young,
Battlestar Galactica's
Edward James Olmos, M. Emmet Walsh, Daryl Hannah, William Sanderson, Brion James, Joanna Cassidy and James Hong.
02:00 AM
Battlestar Galactica: The Plan
Examining the events of the reimagined "
Battlestar Galactica
" series from the point of view of the space-opera's villains, the human-like Cylons, from their devastating attack on the Colonies through the plotlines of the fourth season.
Cast includes Edward James Olmos, Dean Stockwell, Michael Trucco, Grace Park, Michael Hogan, Aaron Douglas, Callum Keith Rennie, Kate Vernon, Rick Worthy, Lymari Nadal, Matthew Bennett, Rekha Sharma, Tricia Helfer, Alisen Down, Alonso Oyarzun and Colin Corrigan.