Source: Syfy
schedulebot
[
NOTE: Syfy schedule subject to change(s)
]
SCIFI MOVIE MARATHON - SYFY: SCHEDULE SUNDAY, AUGUST 5, 2012
10:30 AM
Pandorum
After awakening from hypersleep with no memory of their mission, astronauts Lt. Payton (
Dennis Quaid
) and Cpl. Bower (
Ben Foster
) discover that the 60,000 passengers aboard their vast spacecraft have vanished without a trace. Little do they realize that they will soon be fighting for the survival of the entire human race.
Cast includes Dennis Quaid, Ben Foster, Cam Gigandet, Antje Traue, Cung Le, Eddie Rouse and
The Walking Dead's
Norman Reedus.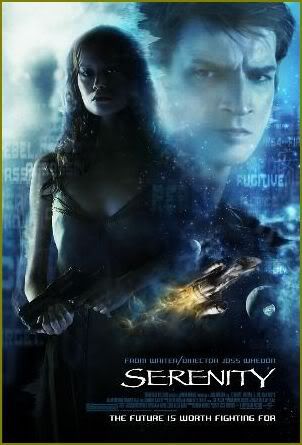 01:00 PM
Serenity
The renegade crew of a space freighter hides a fugitive from a totalitarian regime in writer-director
Joss Whedon's
exciting follow-up to his cult TV series "
Firefly
."
Cast includes
Castle's
Nathan Fillion,
Suits'
Gina Torres,
Suburgatory's
Alan Tudyk,
Homeland's
Morena Baccarin,
Chuck's
Adam Baldwin,
L.A. Complex's
Jewel Staite, Sean Maher, Summer Glau, Ron Glass, Chiwetel Ejiofor and David Krumholtz.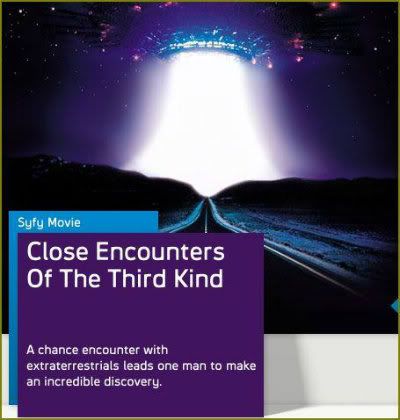 03:30 PM
Close Encounters Of The Third Kind
After an encounter with UFOs, a line worker feels undeniably drawn to an isolated area in the wilderness where something spectacular is about to happen.
Cast includes Richard Dreyfuss, François Truffaut, Teri Garr, Melinda Dillon, Bob Balaban, J. Patrick McNamara, Warren J. Kemmerling, Roberts Blossom, Philip Dodds, Cary Guffey, Lance Henriksen and Josef Sommer.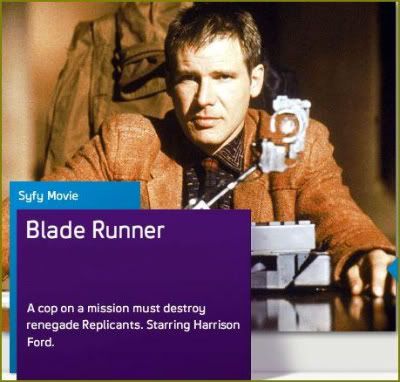 06:30 PM
Blade Runner
Superb special effects propel
Ridley Scott's
thriller about a 21st-century detective (
Harrison Ford
) assigned to destroy rebellious androids.
Cast includes Harrison Ford, Rutger Hauer, Sean Young,
Battlestar Galactica's
Edward James Olmos, M. Emmet Walsh, Daryl Hannah, William Sanderson, Brion James, Joanna Cassidy and James Hong.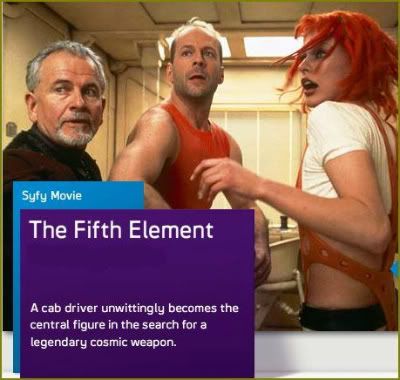 09:00 PM
The Fifth Element
Great special effects, ludicrous script.
Gary Oldman, Milla Jovovich
. Directed by
Luc Besson
("
La Femme Nikita
"), who wrote the story when he was a teen. Besson also invented the unique language spoken by the alien Leeloo. Netted an Oscar nomination for Sound Effects Editing.
Cast includes Bruce Willis, Gary Oldman, Ian Holm, Milla Jovovich, Chris Tucker, Luke Perry, Brion James and Tommy 'Tiny' Lister.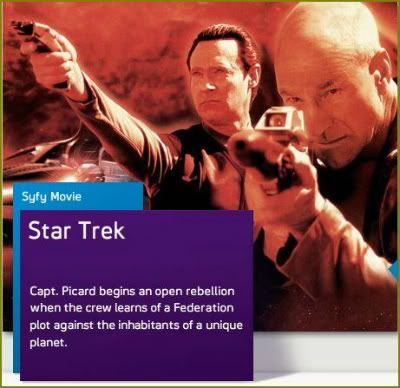 11:30 PM
Star Trek: Insurrection
The ninth film in the series finds Capt. Picard (
Patrick Stewart
) and his crew questioning orders from Starfleet regarding a planet with mystical powers. Ambitious but sluggish. Directed by
Jonathan Frakes
, who plays Cdr. Riker.
Cast includes Patrick Stewart, Jonathan Frakes, Brent Spiner,
Perception's
LeVar Burton, Michael Dorn, Gates McFadden, Marina Sirtis, F. Murray Abraham, Donna Murphy, Anthony Zerbe, Gregg Henry, Daniel Hugh Kelly and Michael Welch.
01:30 AM
Star Runners
Space smugglers transport cargo---a woman with special powers---that puts them at odds with an evil government. Matters get worse when the trio crashes onto a planet inhabited by carnivorous insect creatures.
Cast includes
Star Trek Enterprise's
Connor Trinneer, James Kyson-Lee, Toni Trucks and Aja Evans.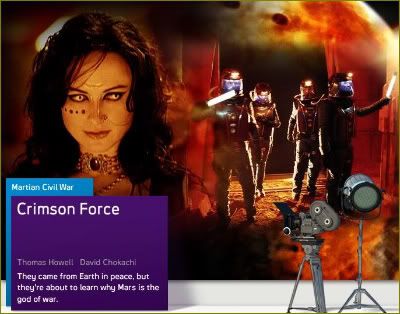 03:30 AM
Crimson Force
A marooned spacecraft crew discovers life---and death---on Mars when its amoral captain (
C. Thomas Howell
) searches for an energy source and stumbles into an alien civil war.
Cast includes
Stargate SG-1's
Tony Amendola,
Supernatural's
Steven Williams Taylor Mac Bowyer, David Chokachi, Jeff Fahey, Jeff Gimble, Richard Gnolfo, C. Thomas Howell and Terasa Livingstone.