Source: Syfy
schedulebot
[
NOTE: Syfy schedule subject to change(s)
]
ANACONDA MOVIE MARATHON - SYFY: SCHEDULE TUESDAY, JULY 31, 2012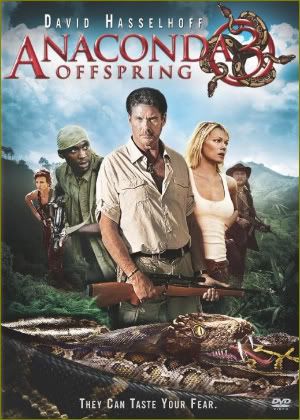 03:00 PM
Anaconda 3
A hunt for two massive snakes is launched following their escape from a research facility where their longevity was studied.
Cast includes David Hasselhoff, Crystal Allen, Ryan McCluskey, Patrick Regis, Anthony Green and John Rhys-Davies.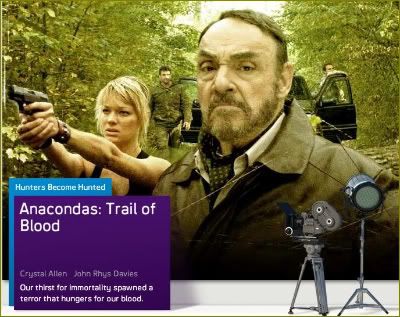 05:00 PM
Anacondas: Trail Of Blood
A genetically created Anaconda, cut in half, regenerates itself into two aggressive giant snakes, due to the Blood Orchid.
Starring Crystal Allen, Linden Ashby, Danny Midwinter, Ana Ularu, Claudiu Bleont, Anca-Ioana Androne and John Rhys-Davies.
07:00 PM
Anaconda
Thriller about a documentary team that heads for the Brazilian jungle to search for a remote native tribe, but ends up fleeing from a giant snake
Cast includes Jennifer Lopez, Ice Cube, Jon Voight, Eric Stoltz, Jonathan Hyde, Owen Wilson, Kari Wuhrer, Vincent Castellanos and Danny Trejo.