Source:
SciFi and TV Talk
[follow link for complete interview]

SCIFI AND TV TALK: Good To Be Bad - Interview with Continuum's Roger Cross
by
Steven Eramo
07/16/2012
One of the things you immediately notice when meeting
Roger Cross
for the first time is what a nice guy he is. So it seems odd to watch him playing a not-so-nice guy, but that, of course, is a sign of a talented actor, which he is. On Canada's Showcase TV network's hit Sci-Fi/Police drama series
Continuum
,
Cross
plays a major baddie, Travis Verta, one of an elite group of terrorists who have journeyed back in time from 2077 to present day Vancouver in order to change a future where major corporations as opposed to governments rule the world. While Travis may appear to have a one-track mind with regard to his mission, there is a human being under all that bravado.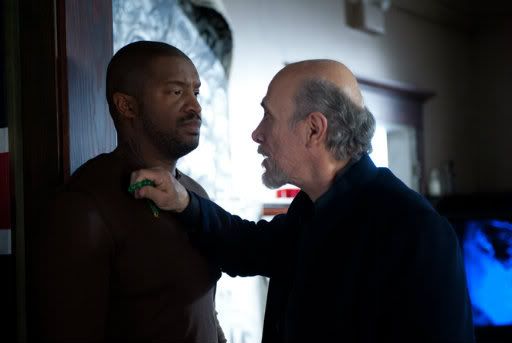 Roger R. Cross and Tony Amendola from Continuum
"
Travis was initially written to be very one-dimensional
," explains
Cross
. "
He's this bad ass who's mean, angry, all those sorts of things, but what's really interesting about him is that he has the love of his life, Lexa Doig's character of Sonya Valentine, by his side
.
"
The thing is, even the craziest killer, the craziest bad ass out there has a tender side because they all have a weakness for a loved one. For those who don't, it's truly sad, but what's great is that Travis has the ability to love and care about someone, and you need that. Any great man will tell you that they need to be weak or vulnerable at some point. You can't always be the tough guy who doesn't need anyone else.
"
So Travis definitely has a tender side, but having said that, he's this group's super solider. He's their meanest of their mean at that point, and not happy with the way he has been treated...
Continuum
airs Sunday at 9/8C on Showcase in Canada. Cast includes Rachel Nichols, Victor Webster, Erik Knudsen, Stephen Lobo, Richard Harmon, Roger R. Cross,
Stargate SG-1's
Tony Amendola, Brian Markinson and
Stargate Universe's
Jennifer Spence.